Pavin's praise for putter
American moves into a three-way share of the lead at the Buick Open
Last Updated: 28/06/08 9:07am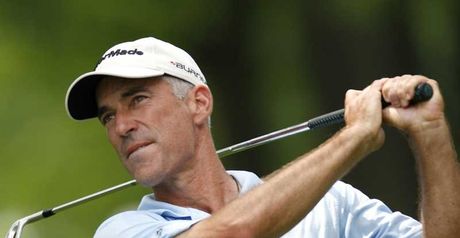 Pavin: Share of the lead
A 24-year-old putter helped Corey Pavin into a three-way share of the lead at the Buick Open on Thursday.
The American fired a bogey-free round of 64 in Michigan - including a run of six birdies in eight holes - to join Bo Van Pelt and Dudley Hart at the top of the leaderboard.
That was Pavin's first back-to-back 64 in 25 years having also carded the score in the last round of the Travelers Championship.
And having needed just 21 putts, the 48-year-old has put the success down to returning to his old putter for the first time in a decade.
He said: "It's a putter I got in 1984. I used it for quite a while, probably up until about the middle of '95.
Good
"Then it took a break until last year. So it was on the bench for over a decade.
"I thought I'd try it and it's been working pretty good."
American Briny Baird and Swede Daniel Chopra are one shot behind the leading pack, while Shigeki Maruyama, Briton Kenneth Ferrie, Jon Mills and Woody Austin are all tied on 66.
US Open runner-up Rocco Mediate, though, struggled around the Warwick
Hills Golf and Country Club with a one-under 71.
And Mediate, who won the title here in 2000, admitted he had left drained by his efforts at Torrey Pines.
"I'm toast. It took a lot out of me. I need to get some rest," Mediate said.
"I'm so tired I can't even talk. You know I'm tired when I can't talk."