Taylor perfect in Bolton
Watch the UK Open all weekend live on Sky Sports
Last Updated: 08/06/08 10:51pm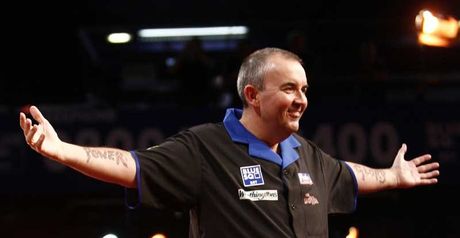 Taylor: cost sponsors dear
Phil Taylor hit an incredible fourth nine-darter in the Blue Square UK Open on Saturday afternoon.
Phil Taylor's TV nine-darters
2002 Stan James World Matchplay v Chris Mason
2004 Budweiser UK Open v Matt Chapman
2005 Budweiser UK Open v Roland Scholten
2007 International Darts League v Raymond van Barneveld
2007 Blue Square UK Open v Wes Newton
2008 Blue Square UK Open v Jamie Harvey
Taylor also hit a nine-darter in a Players Championship tournament in Germany in March 2008 during a win over Ronnie Baxter.
Taylor achieved the feat - with a 180 followed by a 177 and a 144 checkout, finishing on double 12 - during a 9-1 win over Jamie Harvey in the fourth round of the tournament at the Reebok Stadium, Bolton.
In emulating his previous nine-darters in 2004, 2005 and 2007, Taylor earned himself a £25,000 bonus from the PDC - should no other player match the nine-darter during the remainder of the event and grab a share.
He revealed that he almost hit a nine-darter in practice earlier on Saturday - missing the double 12 which he later landed to send the 1,000-strong Bolton crowd wild.
"I said in practice that I could go close today and I almost had one in the practice room," he said. "I missed double 12 by a mile, but luckily I got it when I was on stage.
Relaxed
"I was relaxed and enjoying the game, I was 7-1 up at the time so there wasn't a lot of pressure on me and that's the best time for it.
"I'm delighted to have done another nine-darter, it's easy to do them in practice but doing it in a game is another thing."
Taylor's nine-darter, the sixth in a televised competition during his unparalleled career, also cost tournament sponsors Blue Square a £50,000 payout, having offered to refund all losing Outright Tournament bets should the achievement be landed in Bolton.
Taylor will return in the last 16 on Saturday evening and added: "I have to keep my focus and not get carried away now.
"The nine-darter's great but it doesn't win me the tournament, I still have to win four more games!"