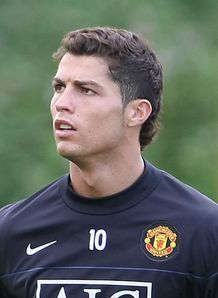 Related links
Teams
Players
Also see
Cristiano Ronaldo believes he is on target to make his Manchester United comeback before the end of September.
The winger underwent an ankle operation earlier in the summer and had been expected to be sidelined until October.
However, the Portugal international's recovery is ahead of schedule and he could return for United's Premier League game on 27th September against Bolton Wanderers.
"I am feeling fine," said Ronaldo in the News of the World "I am feeling really good and my recovery is going well.
Frustrating
"I am more than happy with my progress and I hope to be back playing for United by the end of September - that is my target and it is a realistic one.
"It has been frustrating to miss the start of the Premier League season, but I am pleased with my rehabilitation and, hopefully, I'll be ready soon."
Ronaldo enjoyed a stunning last season, scoring 42 goals for United in addition to winning the Premier League and UEFA Champions League.
He also scooped a series of individual awards, but the 23-year-old remains determined to improve upon his past achievements.
Better player
"Everybody at United had a good season last year and it will be hard to reach that peak again, but we will try," added Ronaldo.
"At United we always want to progress and improve and I am the same.
"I want to be better every season. I know it is going to be difficult to score as many goals as I did last time, but I will always try.
"When I have reached my correct fitness level, I hope to show that I am a better player than last season."
Sky Bet Odds:
Click Here for Your Free Bet