Black buoyed by Turner return
Sunderland assistant happy to see defender back in action
Last Updated: 11/10/11 5:36pm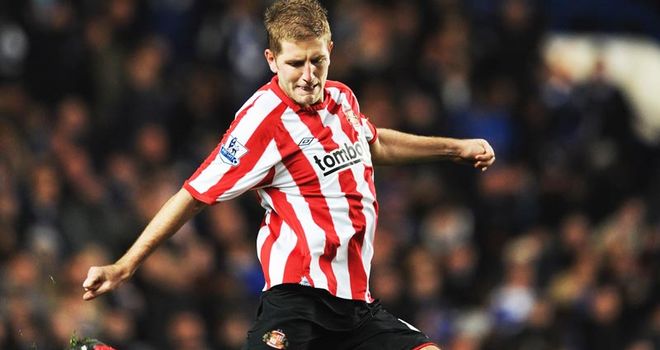 Michael Turner: Returned for Sunderland in the 2-2 draw with West Brom in their last outing
Sunderland assistant manager Eric Black feels that Michael Turner's return to fitness can help the club climb the Premier League.
The defender made his comeback and first appearance of the season in the 2-2 draw with West Brom in their last outing.
Turner had been missing due to a knee problem and made just 16 appearances for the club last season.
The 27-year-old was brought straight back into the team with the Black Cats struggling so far this term.
Steve Bruce's side have claimed just one win, but have often been solid at the back despite their problems.
They have conceded eight goals, which is as many as Liverpool, Chelsea and Stoke City but have only scored nine, which is as few as bottom-of-the-table Bolton.
And Black is confident that Turner will help galvanise the club and was impressed by his comeback against the Baggies.
Diligent
He told the club's official website: "I thought Michael did very well under the circumstances.
"Having been out for so long and bearing in mind Michael's size, it can take him a little bit of time to get over things.
"He's been unbelievably diligent in the gym, doing everything that's been asked of him.
"Michael deserves his place in the team and it was great to see him back. He brings a strong mentality and toughness which assists our back four."