Daley ready to tackle Qui
Daley bids to land first Olympic medal
Last Updated: August 9, 2012 6:23pm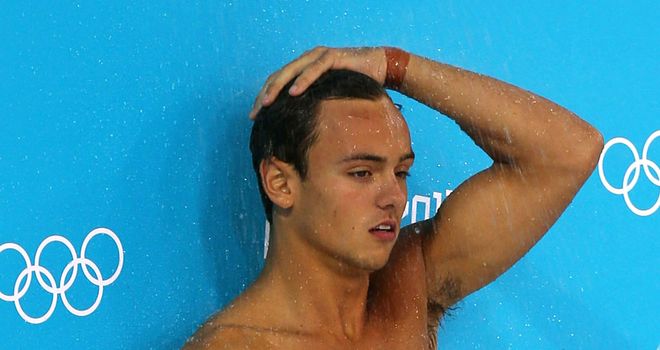 Tom Daley must get the better of world champion Qui Bo if he is to claim his first Olympic gold medal.
Both are yet to stand on an Olympic podium but will be expected to do so on Saturday night in the final, with battle commencing on Friday in the prelimanry round.
Daley has revelled in the media spotlight since he won over the British public as a wide-eyed 14-year-old in Beijing four years ago.
In the ensuing years he has added substance to first impressions, famously beating Qiu to win the platform world title in 2009.
At just 15 years of age Daley became Britain's youngest ever world champion - two years after he had already taken the European crown.
But the Plymouth diver's prodigious talent has since been usurped by the all-conquering Qiu, who at 19 years of age is arguably already one of the best platform divers of all-time.
Qiu blitzed his rivals as he wrestled away Daley's world crown in Shanghai 12 months ago and he has proven unbeatable since.
Daley was well off the pace in China, finishing fifth, although it came in mitigating circumstances just two months after the death of his father Robert.
Autobiography
Daley was at his father's bedside at the family home in Plymouth when he lost his long battle with brain cancer aged 40.
Robert Daley had been a constant at poolside throughout Daley's career and hoped to fight the disease long enough to see his son compete in London.
Daley admitted in his autobiography, released on his 18th birthday in May, that he thought of his father whenever he competed.
"As I climb out of the water, I always think about Dad. He was at almost every training session and competition that I did, until he died last May, and every time I train I expect to see him sitting by the poolside, grinning and cracking jokes," he wrote.
"When I jump from the board at London 2012 Olympics - it will be for him."
Following Daley's fourth-placing in the platform synchro last week he was left aggrieved after receiving a Twitter message from a user who accused him of letting down his father.
A 17-year-old was arrested and issued with a harassment warning.
Daley opted not to follow pre-Games advice, issued by British Swimming to all its competitors - including divers - to take a Twitter 'holiday'.
Following the synchro, Daley moved out of the Olympic Village for a pre-planned five-day training camp in Southend.
British diving performance director Alexei Evangulov revealed on the eve of the Games he wanted to remove Daley from the pressures of the Olympic Village to concentrate on his duel with Qiu.
Expectation on Daley has grown in the past six months as he has hit career-best form, culminating in winning the World Series individual and platform titles.
Heights
He also posted a personal best 565.05 in reclaiming his European crown in May - his last international appearance before the Games.
That score would have been enough to win the platform gold in Beijing four years ago, however Qiu has lifted the standard even further in that time with scores in excess of 600.
Should the Chinese hit those heights, Daley is aware he most probably can not match him, however he has repeatedly voiced his hope that the weight of a 17,500-strong home support inside the Aquatics Centre could help crack the Chinese.
"If you put pressure on the Chinese and pressure on other divers then they are more likely to falter," Daley said on the eve of the Games.
"It's about whether they've learned to deal with the pressure or whether they've got used to that.
"You take off the board and land in the water in 1.6 seconds. You hit the water at 34mph. In between that gap anything can happen."