Farah, Bolt pay tribute
Duo indulge in a little back-slapping after night to remember
Last Updated: August 12, 2012 9:06am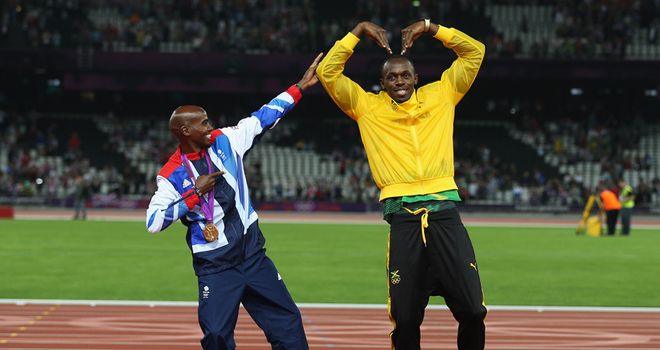 Mo Farah paid tribute to Usain Bolt after the Jamaican celebrated another relay world record by mimicking the 'Mobot'.
"I think we take him for granted, we're not going to see a legend like him again."
Mo Farah on Usain Bolt Quotes of the week
Bolt performed the now-famous celebration after crossing the line for his third gold medal of the Olympics, anchoring his country to a time of 36.84secs in the 4x100m relay.
The final track race of the Games came 75 minutes after Farah had completed his 10,000/5,000m double on what was another memorable night at the Olympic Stadium.
"Oh yeah, did you see that? That was awesome, unbelievable," Farah said of Bolt's celebration. "It is a big respect, the guy has broken the world record and is doing the 'Mobot'.
"It is unbelievable, who would have thought that? The guy is a legend. I've known Usain for a long time and what he's doing for the sport is amazing.
"It's what we need, he's just a character. I think we take him for granted, we're not going to see a legend like him again."
Joyful
Bolt had promised Farah before the Games he would do the 'Mobot' but admitted he had forgotten when winning the 100 and 200 metres.
"I said to him I was going to do that when I get to the Olympics, but it slipped the first two times because I was so happy that I won," said the Jamaican.
"But before I came out I watched his 5,000m and so made sure I did that.
"Me and Mo we go way back to when I started out, we have the same agent, and it was a joyful thing to see him winning that double. It was wonderful."
Bolt conducted a Mexican wave in the Olympic Stadium following the medal ceremony as he continued to milk his popularity with the huge crowd.
"I like to push the barriers and do thiings that has never been done before, that's why I mess around and do fun stuff," he added.
"To play with the crowd was awesome and I'm sure they appreciated it - I start the Mexican wave, it was fun.
"It was kind of a goodbye to London. I was just having fun in the crowd. I came here to become a legend and I was a legend too I was telling them thank you for the support."