Woods to miss Quail Hollow
World number six suffers leg injuries during Masters
Last Updated: 27/04/11 3:09pm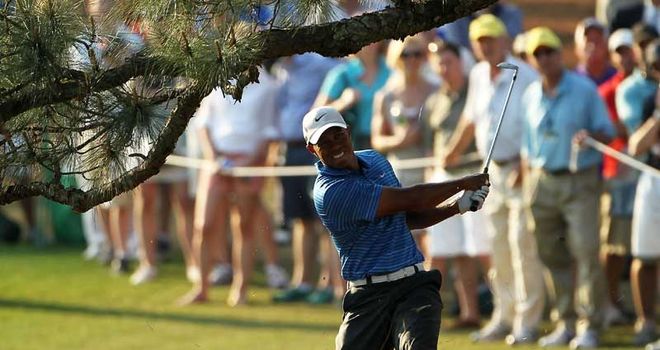 Woods damaged his leg at Augusta
Tiger Woods has pulled out of next week's Wells Fargo Championship at Quail Hollow with injuries to his left leg.
The world number six suffered a sprained knee ligament and strained Achilles tendon when playing a shot from the pine straw during the third round of The Masters earlier this month.
Woods had taken up a difficult stance to play the shot from beneath the famous Eisenhower Tree to the left of the 17th fairway.
The former world number one played on before later seeking medical evaluation. He eventually finished in a tie for fourth at Augusta.
"I personally contacted tournament officials and expressed my regret in not being able to play," he said. "This is an outstanding event, but I must follow doctors' orders to get better."
Woods now hopes to be back in a few weeks with his agent Mark Steinberg saying: "This is precautionary. We're not at all concerned. He's just listening to his doctors, which is kind of nice. He certainly didn't listen to them before the U.S. Open in 2008."
Woods won that U.S. Open, at Torrey Pines, in a playoff to take his tally of majors to 14. He hasn't added to it since which leaves him four behind the record of 18 held by Jack Nicklaus.
Steinberg said Woods has been wearing a protective boot and hasn't hit a shot since the Masters. That latter comment should be taken as competitively as Wood conducted clinics during his trip to Asia on behalf of Nike Golf, which were directly after The Masters. YouTube footage shows him hitting full shots in front of youngsters in Seoul, Korea.
The injury also makes Woods doubtful for the Players' Championship at Sawgrass the following week although Steinberg said he has a "reasonable chance" of playing.
While many experts claim that Woods will soon return to his best, it's his ongoing health problems that are cited by some as the reason why he won't overhaul Nicklaus' major tally.
Woods has already had four operations on his left knee, dating to his freshman year at Stanford in 1994.
His most recent surgery was after winning the U.S. Open in 2008, and he wound up missing the next eight months after his left knee was rebuilt.