PING G20 range
Last Updated: August 18, 2011 2:07pm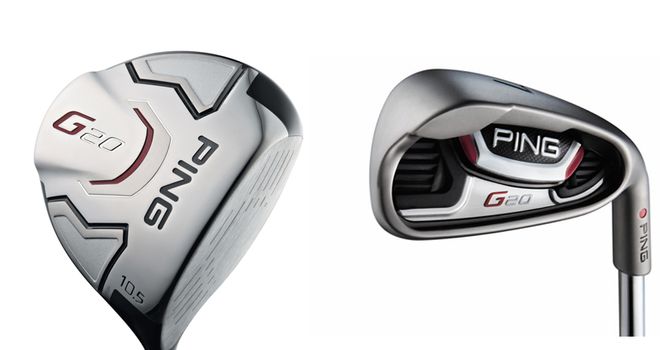 Already in the bag of Bubba Watson, Angel Cabrera and Miguel Angel Jimenez, PING have now launched the G20 range to the public.
"There's a lot of new technology in the entire G20 family," said PING chairman and CEO John Solheim. "Our engineers optimised the clubs to fit and benefit golfers of all skill levels.
"In the driver, we're using for the first time a titanium alloy called Ti 8-1-1, which allows us to improve the weighting to better optimise the entire clubhead. When combined with our new, proprietary high-balance-point shaft, our testing shows significant improvements in energy transfer, which leads to longer, straighter drives.
"The irons are more forgiving and feature a cavity design that includes an elastomer badge for improved feel. The fairway woods and hybrids offer golfers high-launching, forgiving options from all conditions."
Our team of testers got some G20s in our hands last week. So what did we think?
Paul Simpson - handicap 14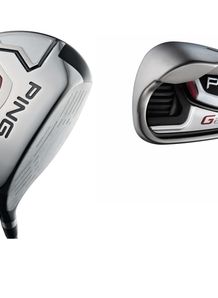 Ping G20 Driver - 10.5 deg
Dear K15 Driver, we've been together for a year now and had a terrific time but I've met somebody else. I don't know how to say this without hurting you so I'll just come out and say it. It's your young cousin G20. We've been out a couple of times now and I love the way she sits squarely behind the ball with her large, yet surprisingly sleek 460cc head and the ball flight she produces can only be described as penetrating. Her head feels heavy in my hands compared to yours, which gives me a sense of always knowing where it is and what I need to do to shape my shots. I know that she's been knocking around with pros such as Angel Cabrera, Bubba Watson and that old smoothy Miguel Angel Jimenez but if anything that has strengthened my feelings toward her. It can only be a matter of time before your other cousin, the incredibly popular G15 finds out, and I get the feeling she is going to be more than a little upset.
Ping G20 Irons - 5,7,9
The G20 irons have got to be some of the easiest and most forgiving clubs available. They feature a large sole and, while not particularly pleasing on the eye, it enables them to sit flat on the ground allowing the player to sweep away the backswing slow and low leading to a more consistent and controlled swing. On impact they have a lovely soft feel to them courtesy of the large cavity which contains a soft elastomer insert and while the high ball flight might not suit low handicappers, the confidence of the regular mid to high handicapper can only improve with these clubs at their disposal.
Ping G20 Fairway Wood - 3-Wood
There seems to be a common theme to the new G20 range. Each club seems to lie so comfortably at address they almost align themselves to the target and the 3-wood is no different. With its shallow face, fairway shots don't seem as daunting and the weight has been placed in the external areas of the head which produces a low centre of gravity. This meant I was able to get the ball away on every occasion without topping it, something I'm prone to do when not on the tee. It's another great club which can proudly take its place alongside the excellent driver.
Ping G20 Hybrid - 20 deg (3-Iron equivalent)
Ping have retained what I can only describe as the hockey stick style head previously seen in the G and K series of hybrids and whilst they won't be to everyone's taste in the looks department you cannot fault their performance. The head appears shorter and more compact than previous incarnations, also sitting flatter and squarer and in doing so feels both powerful at address and when striking through the ball. There is no issue getting the ball away with a high trajectory from both the fairway and rough, which if you are looking for an alternative to the traditional, difficult to hit longer irons whilst also being able to bring the ball in from on high without losing distance then the G20 Hybrid comfortably fits the bill.
Ping Anser Wedge - 56deg
This wedge is a different beast to the slim blades to which I am more accustomed and I can safely say that I'm pleasantly surprised. The head is compact and solid with an hour glass shaped support bar in the shallow back cavity which means that even if you don't get the ball out of the middle, the club still produces a solid shot. I was particularly impressed with the feel produced by the soft steel from which it has been created and the club has a gentle sheen to it, preventing the glaring reflection of the sun. The club exceeds all the criteria you would expect from a wedge and has the potential to be well up there when awards are dished out at the end of the year.
David Keywood - handicap 1
Ping G20 Driver - 9.5 deg
I've used Ping drivers for as long as I can remember. First a G2, then briefly moving onto a G5 after a disagreement with the G2 in my golf club championships, then onto the i15 which I currently use. When I first set eyes on the G20 I noticed that the club head seemed huge compared to anything I have hit in the past few years. I have to say I love my i15, I can hit any shape shot with it and feel confident that at worse I will find light rough off the tee. I did get the same feeling with the G20 which is strange for me as it usually takes me a few shots to get acquainted with the club. My first drive was high, long and straight and I put this down to the honeymoon period but my next half dozen shots were the same. I opted to try different shapes and bar one rat hook I found that this really is a club for players of any level. The i15 better be on her best behaviour for the next few rounds as a ready-made replacement is waiting in the wings.
Ping G20 irons - 5,7,9
In all honesty I've never been a massive fan of Ping irons. I've used forged irons for the past decade and they are what I'm used to. With this said, I have never used any of the G-range of Ping irons as I assumed they were for the higher handicapper with their large heads, sole and cavity. In all fairness I was very impressed with these irons, they are a club which gives a player confidence and seem to be very forgiving when you don't quite find the middle of the bat. I hit the ball with a low penetrating trajectory which I couldn't quite replicate with these irons as I received a much higher ball flight and extra distance. I usually hit a 7 iron 155 yards but I would say these irons easily added an extra 10 yards to my game. As much as I liked these irons I just can't get over their bulky side and I do prefer a small head on my irons. I would say these irons are perfect for the average to high handicap player. Well worth going to your local pro to give them a try.
Ping G20 Fairway Wood - 15 deg
Much like the G20 driver the club head seems larger than your usual fairway wood, I use a 3-wood quite a bit off the tee at my local course as it is quite tight so position on the fairway is needed to attack the flags. Therefore out of all the clubs I've reviewed this was the one which I had the most interest in. I again got the high ball flight but found that the distance was around the same as my current fairway wood. Like the driver I could easily make the transition to the G20 fairway wood. The larger head gives you the extra confidence needed to use this club off the deck and I would recommend this club for golfers of all standards.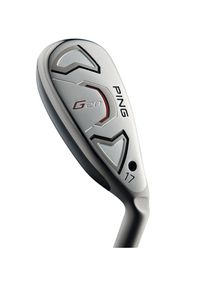 Ping G20 Hybrid - 20 degI don't like the look at all of this club and straight away I assumed that I was wasting my time even having a go with it. I own a 3 iron in my current set and it's one of the best clubs in my bag as I can keep a low flight when playing against wind. In my opinion this hybrid is designed for golfers who struggle with longer irons or want a higher ball flight on longer shots. It took me a while to get used to the club as I had to get into the mentality of setting up for a long iron rather than a wood. Once adjusted I could see why golfers love these types of club. When at the range the guy in the booth next to me was really struggling with what looked like a 3 iron. I offered him the club to use for extra feedback and he actually said he was going into the shop to buy one after his practice session. A great addition to the G20 family and if you struggle with your long irons this club really is a great substitute.
Verdict:
The new PING clubs have also been tested by other members of the Skysports.com team and the comments echo those above.
From our one handicapper, Dave, right through to our high handicappers we think PING have done a great job here and there have almost been scuffles over who gets to use the G20 driver next.
Several of our team were playing G15s and had no particular desire to change from what was already working but their heads have definitely been turned by the G20s.
We absolutely recommend you give them a try.
Locker room rating: 4 out of 5 (full 5 for the driver!)