Ward sees off Abraham
Californian awaits Froch or Johnson in Super Six final
Last Updated: 15/05/11 9:16am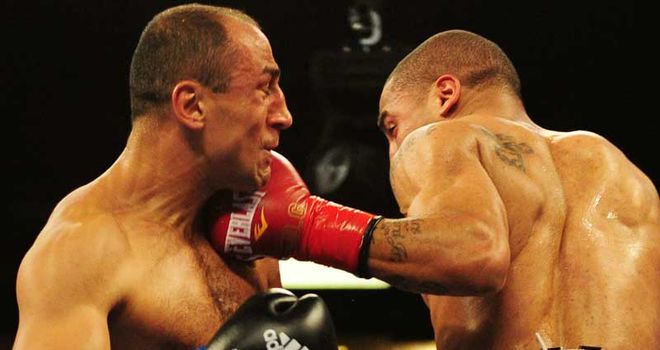 Ward catches Abraham on his way to a points win
WBA super middleweight champion Andre Ward overwhelmed Germany's Arthur Abraham on his way to a unanimous decision and a place in the Super Six final.
Ward, the 2004 Olympic gold medalist, is one fight away from the title in a tournament that was designed to unite the WBA and WBC belts.
England's Carl Froch will meet Glen Johnson in the other Super Six semi-final bout in Atlantic City on June 4, with the final probably set for the autumn.
Ward dominated the 12-round contest to win a unanimous points verdict, the three judges scoring the bout 120-108, 118-110 and 118-111.
In front of a home crowd in California, Ward impressed from the outset behind his jab, while the 10th round was particularly one-sided.
Aggression
Ward used his jab aggressively in the opening rounds, but Abraham showed more aggression than in his previous two bouts, even rattling Ward with a right hand behind his ear in the third round. Ward weathered those attacks and took charge in a series of one-sided rounds.
Ward never came close to stopping Abraham, but he battered the challenger into the ropes with an overhand right in the final minute of the 12th round.
Abraham was eliminated from the tournament having lost three of his last four fights.
Ward extended his perfect professional record to 24-0 (13 KOs). Former IBF middleweight king Abraham had a perfect record before entereing the Super Six, but is now 32-3.