Ryder - I'm a pure batsman
Novice opener revels in maiden one-day international half-century
Last Updated: 12/02/08 11:42am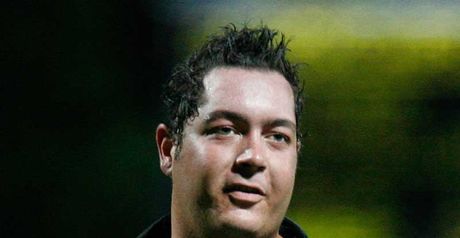 Ryder: plays all the shots
Jesse Ryder was delighted after helping New Zealand to a 10-wicket victory over England in Hamilton.
"(I'm) a pure batsman mate."
Jesse Ryder Quotes of the week
Ryder smashed 79 from 62 balls as the Black Caps needed just 18.1 of the available 36 overs to chase down a revised target of 165 in the rain affected contest.
His innings was somewhat upstaged by his opening partner Brendon McCullum, who blasted five sixes during an innings of 80 from 47 balls.
"It was great, me and Baz (McCullum) having a bat like that - we just played out shots and it came off," Ryder told Sky Sports.
"We just back ourselves to play our shots (but also) make sure it's good shot selection.
"They came at us quite hard early doors, there was plenty of chirp out there, but we went back at them twice as hard which was good.
"To finish it off with 10 wickets in hand was unbelievable."
Deceptive
Ryder was making just his second one-day appearance and laughed off suggestions he is nothing more than an uncultured hitter.
"(I'm) a pure batsman mate," he said.
"I guess the size of me (means) everyone thinks I can hit the big ball, but I just play my shots and if they come off, they come off."
When asked about banners in the crowd suggesting his best shot was tequila, he added: "Back in the day it might have been, but times change."
New Zealand lead the five-match series 2-0 ahead of Friday's third game in Auckland. Play starts at 0100h (GMT), and you can follow the action live on Sky Sports 1 or via skysports.com's over-by-over commentary.