Parker gets Gerrard backing
Midfielder keen to keep armband for Euro 2012
Last Updated: 01/03/12 9:17am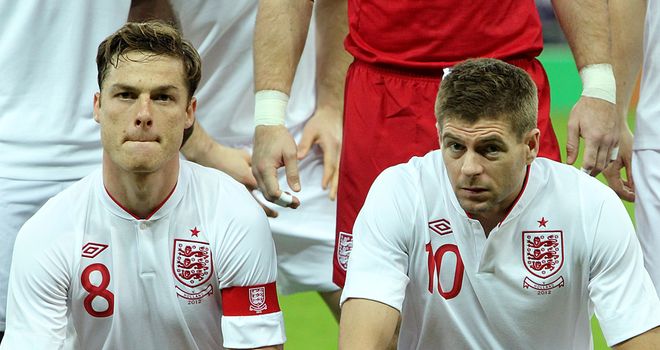 Scott Parker: Says Gerrard congratulated him after he was handed armband
England midfielder Scott Parker says Steven Gerrard was the first person to congratulate him after he was named captain for Wednesday's defeat by Holland.
Liverpool skipper Gerrard was the favourite to succeed John Terry for the 3-2 friendly loss at Wembley but was overlooked by caretaker manager Stuart Pearce in favour of Tottenham midfielder Parker.
And there were no hard feelings according to the latter, who told Sky Sports: "Steve was fine. He was the ultra-professional he is.
"He was the first person to come up to me and congratulate me and said he'd support me. That was pleasing.
"You wouldn't expect anything else from such a great player."
Chance
Should the Football Association appoint a permanent successor to Fabio Capello before this summer's European Championship, the new man must decide who he wants to be England captain in Poland and Ukraine.
Asked if he would like to keep the armband, Parker said: "Of course I would.
"I also understand there's a many a player - no-one more than Steven Gerrard and a couple of others - who've obviously been there before and done it.
"It's going to be difficult for me but I would obviously relish the chance to lead the country out again and take it into the Euros.
"Whether that's me or it's not me, I know I'll be fully behind whoever it may be, determined to make England succeed."
Parker added of his first experience as skipper: "It was pretty special, really, a very proud moment for me and something as a kid I dreamed of many a time.
"I could probably speak for every boy and every young lad who has the same ambition.
"I never thought it would happen to me, so absolutely delighted to lead out my country."
The midfielder's first game wearing the armband ultimately ended in a last-gasp defeat after England had looked to have salvaged a 2-2 draw.
Positive
He said: "We're not sitting there thinking that with the way we performed, through maybe just sheer grit and determination and courage, that we're going to go and win a tournament.
"We understand we need to work on things, we need to get technically better. But we all need to be positive and we all need to realise that tonight gives us great hope.
"Coming back from 2-0 down is massive. It was edgy there and we proved that we can do it."