Fergie still admires City
United chief keeping the pressure on Mancini's men
By Graeme Bailey - Tweet me: @skygraemebailey. Last Updated: 25/03/12 1:42pm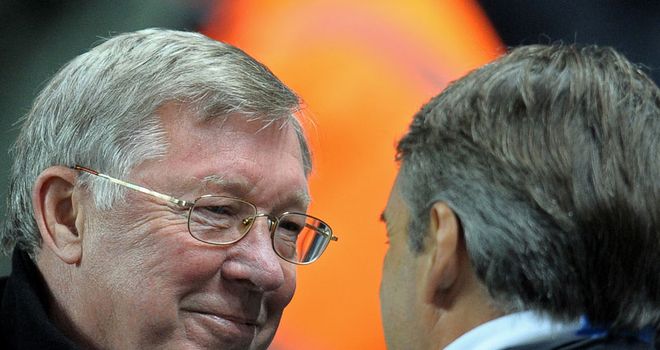 Sir Alex Ferguson: Has admiration for City
Despite hitting back at Manchester City this week, Sir Alex Ferguson cannot hide his admiration for Manchester United's title rivals.
Ferguson hit out at City this week, in what was perceived as the first batch of 'mind-games' in the Premier League title battle.
Ferguson questioned City's use of Carlos Tevez, after Man City's executive Patrick Vieira doubted why United had to recall the previously retired Paul Scholes.
But despite the spat, Ferguson admits that City have to be admired.
"Experience is important, no matter who you are. If you've been there before, it helps," he said.
Sky Bet Odds
Manchester United take on Fulham on Monday knowing a win will see them return to the top of the table. Click here for the latest match markets including Correct Score, First Goalscorer and Both Players to Score!
"It's not absolutely conclusive that it will apply this season because you've got to admire City.
"They've done exceptionally well and been top of the league for a long time. They've got us to go to the Etihad and they've not lost a game there.
"Individuals and teams can win games, but I think what is important now is how the temperament is how they hold their nerve.
"What we've got to get used to and it's the same for every United and City fan is there's going to be big games involving the two teams for the next decade.
"It will be semi-finals and finals, whatever, because the two teams will be at the forefront."
Squeaky bum
Ferguson famously coined the phrase squeaky bum time some time ago when referring to a previous title challenge.
Roberto Mancini admitted he was started to realise what it meant, and when asked if he thought the Italian did know, Ferguson said: "He will, in the next few weeks!"
City host United at the end of April, in what many are already regarding as a title decider - and you can see that live on Sky Sports.