Jenson shocked by McLaren pace
Button confused by McLaren's woe
Last Updated: 22/04/12 6:07pm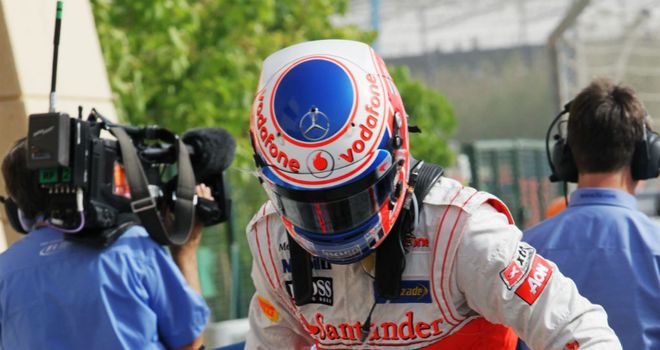 Jenson Button: Perplexed by McLaren's struggles
Formula 1 Betting

Formula 1 Betting

Bet with Sky Bet
Jenson Button has no answers to why McLaren were so far off the pace in the Bahrain GP having started the race as favourites to take victory.
Although two botched pit-stops for Lewis Hamilton and Button's penultimate-lap retirement were the headline features of McLaren's afternoon, the fact of the matter is that they never once appeared to have sufficient pace to challenge for the win. Given that the team had qualified in second and fourth positions, having spent Friday focused on honing their race set-up, it was a bewilderingly lacklustre performance for which Button could produce no explanation afterwards.
SKY SPORTS F1 HD
Watch all this season's races
No ad breaks - uninterrupted live race and qualifying coverage
Enjoy F1 on the move with Sky Go
Expert commentators and pundits - including Damon Hill, David Croft and Ted Kravitz
In-depth programmes and analysis
To find out more about Sky Sports F1, click here
"We were really struggling with oversteer and all the way through the race we were taking front-end out of the car, but we just didn't have the pace here and we don't know where it's gone," Jenson bemoaned to Sky Sports F1. "It's very difficult to understand where the pace is and why we didn't have it around here. In the last races, whether we've won or not, we have had good race pace but we just didn't have it here. So a difficult weekend for the team."
And whilst Hamilton's calamitous pit-stops were the highest-profile mistakes made by the Woking outfit, Button was also made to suffer in the pits as McLaren, once again, failed to match their rivals' efforts along the pitlane.
"I don't think I had the slowest, I think Lewis had the slowest with a stop that was like mine in Shanghai, but even still one of my stops was still six seconds, which is twice as long as it ought to be. So a lot of time lost in the pits for both of us."