Sir Alex - City not going away
Man Utd boss expects more title deciders and finals in years ahead
Last Updated: 26/04/12 6:00pm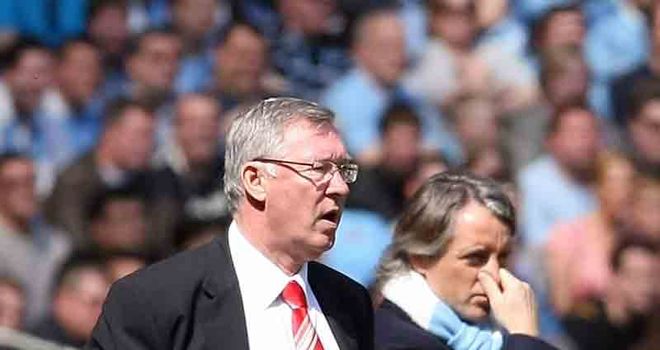 Sir Alex Ferguson: Admits that Man City will be regular title contenders in the seasons to come
Sir Alex Ferguson has admitted ahead of Monday's trip to the Etihad Stadium that Manchester United are going to have to get used to facing their local rivals in important games.
There have been a number of major derby matches between the teams over the past couple of years, including two semi-final ties and some memorable league encounters.
However, Ferguson has admitted that the next clash will be the biggest derby he has been involved in, as the outcome is likely to decide the destination of the title.
Manchester City will go above the Red Devils on goal difference with a home win, while victory for United would put them six points clear with just two games remaining.
"We have to get used to playing Manchester City in important games. They are not going away."
Sir Alex Ferguson Quotes of the week
While Ferguson will always regard Liverpool games as huge because of their emotional attachment, he believes City are the emerging force in English football and expects the rivalry to grow even fiercer in the years to come.
"We have to get used to playing Manchester City in important games," he said. "They are not going away.
"The support they have means we are going to be playing them in a lot of big games.
Focus
"Finals maybe, we already have done in semi-finals, an important cup tie this season.
"If we are going to be contesting for league titles regularly - and I think we will be doing - it will become just as important as the Liverpool game.
"Maybe not in terms of emotion because the Liverpool-United games are emotional.
"But there is certainly an importance which, at this moment in time, supersedes the Liverpool games.
"They are our direct opponents now. Manchester City are up against us to win titles.
"That is what our focus is on, the team who can stop us winning."