Big Sam won't rush Duff
Toon chief to be patient over winger's return
By Peter O'Rourke. Last Updated: 16/10/07 10:28am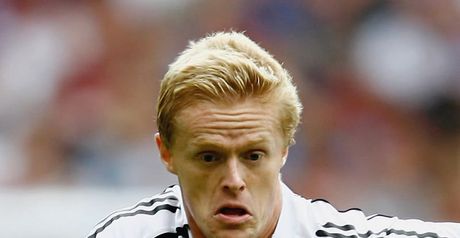 Duff: On road to recovery
Newcastle boss Sam Allardyce is refusing to take any risks with Damien Duff's long-term fitness.
The Republic of Ireland international has been out of action since April after picking up an ankle ligament injury against Portsmouth.
Duff is making good progress from the injury, but Allardyce will not rush the winger as the problem he had was career-threatening.
Career-threatening
"He has been working extremely hard, but the injury he had was a career-threatening one," Allardyce told The Journal.
"It was a really nasty injury. It has been a long and difficult recovery for him, but he is desperate to get back."
"We couldn't have asked any more from him in terms of the work he has put in during his rehabilitation.
"But, having worked so hard for so long to make sure he can play football again, we don't want to waste all that good work by rushing him into things too quickly."
Allardyce hopes Duff will return to training later this month, but he concedes the former Blackburn and Chelsea man is some way off from making a return to first team action.
Patient
"We hope that Damien will be able to join in with group training later this month, but in terms of him playing competitive football in the Premier League, we're going to have to be patient. It might not be until the end of the year," continued Allardyce.
"There are not many better wide players in the Premier League than Damien Duff and it's up to us to get him back to the level he was a couple of years ago."