Adebayor - I've bulked up
Striker has reportedly added more than a stone of muscle
By James Dall. Last Updated: 06/12/07 10:19am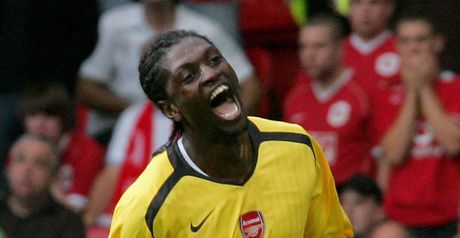 Adebayor: Stronger
Arsenal's Emmanuel Adebayor has revealed that he has been working hard to improve on his physical strength.
After an indifferent start to his Gunners career, the £7million signing from Monaco has really impressed in his third season with the club, demonstrating a fine balance between raw power and technique.
Adebayor has explained that the demands of the Premier League meant he had to work hard on his conditioning.
And reports suggest that the 23-year-old striker has added more than a stone of muscle in the past five months.
Muscles
"I needed to do something. I needed to build up my muscles to take the blows. You have to in England," he said in the Daily Mirror.
"When I got going, I was a lot more powerful. There is no comparison with before. Here, you don't take creatine, only vitamins to recuperate. But we work twice as much.
"I had to progress. I used to take two metres to control the ball. But now the fans are seeing a new Adebayor."