Tykes told to sort out Steele
Baggies want deal done
Last Updated: 14/03/08 8:01pm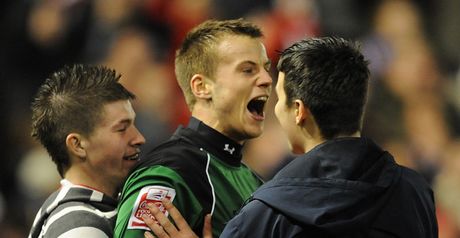 Steele: One of Barnsley's cup heroes
West Brom have told Barnsley to sort out the future of on-loan goalkeeper Luke Steele.
Steele was signed by The Tykes on an emergency loan prior to their FA Cup meeting with Liverpool after first-choice Heinz Muller was ruled out for the rest of the season.
Steele produced heroics at Anfield and was again a star when they defeated Chelsea in the last round.
Now West Brom have told Barnsley to sort out a permanent deal for Steele.
"We are still in negotiations with Barnsley. We have come to the last day of his loan and we are hoping it can be resolved," Baggies boss Tony Mowbray said.
"We are happy for Luke to stay at Barnsley and hopefully both clubs can come to an agreement for the benefit of the player. But at this moment there is a slight problem. Let's
wait and see if it can be resolved.
"We are happy to let Luke go. We have two keepers at the club and it has been intimated to Barnsley that they can take Luke on a free transfer. We think it is a pretty attractive deal that we are offering them.
"Luke probably has a transfer value now after doing well in some high profile games but we are not asking Barnsley for a fee. We are just trying to help the boy's career.
"Luke was Barnsley's choice to bring in and he has done exceptionally well. It is a sad situation.
"We think it is a good deal for Barnsley and I find it difficult to understand where they are coming from as regards a player who has done very well for them.
Not happy
Mowbray added: "Will Luke come back to Albion if Barnsley don't take him on a free transfer? That will be the case. I think that would be a shame for the boy and it is sad for Luke that he is stuck in the middle
"I have had many conversations with Luke and he has got to the stage of his career where he wants to play football. If he comes back here, he will be third choice keeper.
"It will be strange if Luke has to watch the cup semi-final after what he has done or is even playing somewhere else.
"I am sure there would be several clubs interested in the summer and, I repeat, the offer is there now for Barnsley to take him for nothing."