Gillett launches MLS bid
Liverpool co-owner eyes alternative business ventures
By Peter Fraser. Last Updated: 27/03/08 9:34am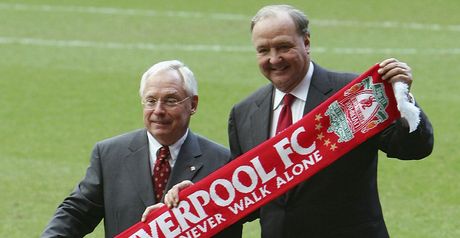 Gillett and Hicks: Unsettled relationship
Unsettled Liverpool co-owner George Gillett has launched a bid for a Major League Soccer franchise.
Gillett has teamed up with the owner of second division team Montreal Impact with a view to bringing a top-flight team to the city.
Impact president Joey Saputo has confirmed he is holding discussions with Gillett with a view to a deal which would see the pair split the $30million (£15m) franchise as well as sharing the cost of a $12m (£6m) expansion of the Saputo Stadium.
"I can confirm that we are in discussions with Gillett Entertainment Group as well as with Major League Soccer to bring an MLS franchise to Montreal," Saputo told the Daily Telegraph.
Anfield uncertainty
The move will throw Gillett's future at Liverpool into further doubt as uncertainty continues to surround his situation on Merseyside.
Gillett joined forces with fellow American Tom Hicks in February 2007 to buy Liverpool, but the pair have endured an unsettled relationship.
Dubai International Capital were keen to buy Gillett's half of the Premier League club earlier in March after he admitted he was unsettled at Anfield, but Hicks broke off discussions.
However, this latest venture suggests Gillett remains keen to look for alternative business opportunities.
Gillett has also held a majority share in the Montreal Canadiens ice hockey team since 2001.