Spurs to leave the Lane
Tottenham to build new 60,000-capacity stadium
Last Updated: 30/10/08 2:36pm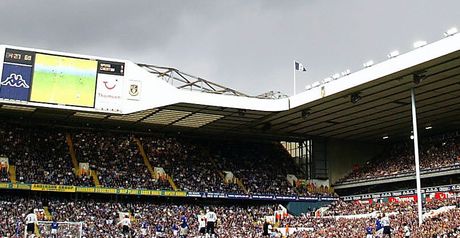 Spurs to leave White Hart Lane
Tottenham Hotspur have confirmed they are leaving White Hart Lane and will build a new 60,000-capacity stadium.
Spurs have revealed the decision has been taken to leave their current home of 109 years for a new purpose-built arena.
The north London outfit also confirmed that they would be staying within their current home of Tottenham, as the new stadium will be located on land adjacent to The Lane.
"The Northumberland Development Project would deliver a world class scheme and substantial new investment for Haringey and our supporters," said chairman Daniel Levy.
"It represents a significant step in the growth of the club, with a proposed stadium capacity of 60,000 and would provide state-of-the-art facilities, important public space, new jobs and homes and a significant boost for the local economy.
"It would also enable us to provide a new base for the Tottenham Hotspur Foundation so that its award winning programmes can continue and have an even greater impact in the local community.
"Tottenham Hotspur is proud of its roots in Haringey. We have been in the Borough for 126 years and the club is inextricably linked with this part of London. We believe that this scheme has the potential to create a truly inspirational environment for the club and the community as well as acting as the catalyst for the uplift of the wider area.
"We are at an early stage of what is part of our long term plans for the club and now we want the views of local people and our fans. I hope people will take the time to look at our plans and let us have their comments."
What do you think about Spurs' stadium plans? Will the increase in capacity allow them to compete with their north London neighbours? Will you miss White Hart Lane? Let us know using the form below.