Robinho enjoying City life
Eastlands ace loves Maradona comparisons
Last Updated: 08/11/08 10:55am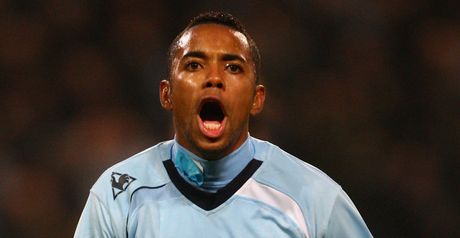 Robinho: Settled
Manchester City ace Robinho admits he loves life in England because he is treated like Maradona.
The Brazilian playmaker joined City on the final day of the summer transfer window for a British record fee from Real Madrid.
Robinho has gone on to impress at Eastlands, scoring seven goals in 11 games, and he feels at home in the Premier League.
"It's been fantastic. They treat me like Maradona over here," Robinho said in The Sun.
World's best
"I feel a little embarrassed at times and I hope I can repay all this love on the field. It's funny, a black Maradona!
"The only thing is I can't score goals with my hand!"
And Robinho has now set his sights on becoming the best player in the world while at City.
"Yes, it can be done, and it will be done. You can be sure. I want to be the world's No.1," he added.
Difficult
"Many people think it has become difficult because of the team but I think it's even easier because at Manchester City I will always start.
"At Madrid I was only used for the important matches.
"In terms of marketing, it may be the best. However, for me, the best team is the one where you get to play.
"It's no good if you are at a so-called great team but spend your time sitting on a bench."