Wenger won't chase Chamakh
Gunners boss running out of patience
By Patrick Haond. Last Updated: 04/08/09 11:05am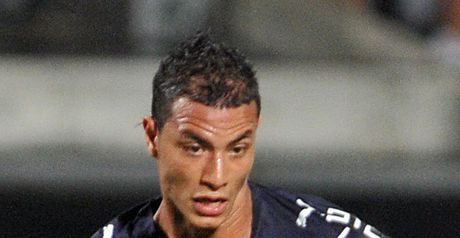 Chamakh: Ongoing transfer saga
Arsene Wenger has revealed that he will not be upping his efforts to bring Marouane Chamakh to Arsenal.
The Gunners boss had enquired as to the Bordeaux striker's availability, and has lodged an offer he deems to be acceptable.
However, the French champions are stalling on any possible deal as they hold out for more money.
Wenger is reluctant to improve his bid and has admitted that, in his eyes, the agreement is dead unless Bordeaux change their stance.
"In five months, if he doesn't prolong his contract, Chamakh will be free to talk to any club and Bordeaux won't get anything," the Frenchman told L'Equipe.
"In the current context, to me, it is over. Let's say that at the moment it is terminated.
"I like Chamakh, he is a forward that attracts me, but I already have (Theo) Walcott, (Nicklas) Bendtner, (Robin) Van Persie, (Andriy) Arshavin and Eduardo. I am in no rush.
"My offer seems fair to me, taking the market into account. Chamakh would be good, but there are other options should we wish to pursue them."
Quote
With his patience pushed to breaking point, Wenger will be pleased to hear that Bordeaux could be about to lower their demands.
Club chairman Jean-Louis Triaud has revealed that he may be prepared to slash the €18million (£15.3m) price-tag recently placed on Chamakh's head.
"I am an admirer of Marouane's qualities and that is why I set the price so high," he said.
"I will admit that the fee I quoted is excessive, but Arsenal's offer is still a long way short.
"I won't say that I will hold out for €18million, but Bordeaux need to benefit from this deal as well."