Fulham tie up Duff deal
Hodgson looking forward to working with winger again
Last Updated: 18/08/09 12:17pm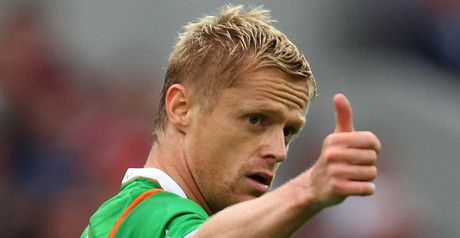 Duff: Happy with move
Fulham have completed the signing of Republic of Ireland winger Damien Duff for an undisclosed fee from Newcastle United.
Duff had emerged as a target for the Cottagers last week and the club have spent the past few days finalising a reported £4million deal.
The former Chelsea wide man has agreed a three-year contract with Roy Hodgson's side and is looking forward to playing in the Premier League again.
"I am happy that my move to Fulham has been completed and look forward to joining in with the rest of the squad's training programme immediately, in preparation for two important home matches this week," Duff told the club's official website.
"Fulham had a fantastic season last year and I know that having spoken to the manager in recent days that the club's ambitions remain high and I am looking forward to the challenges ahead."
Duff played under Hodgson during his early days at Blackburn Rovers and the Fulham boss is keen to work with the 30-year-old again.
Hodgson said: "I am delighted to add a player of Damien Duff's calibre to our squad, and welcome the further midfield options he provides us with.
"I have known Damien for over a decade since he broke into the first team at Blackburn when I was manager, so I'm fully aware of his qualities and I am looking forward to working with him again."