Barca contest Eto'o claim
Catalan giants prepared to fight demands of former striker
By Francisco Acedo. Last Updated: 01/10/09 4:11pm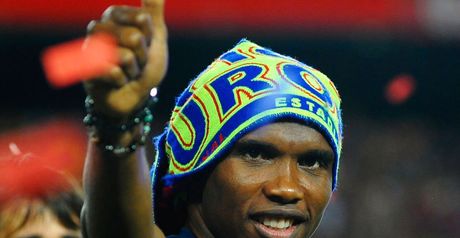 Eto'o: Moved to Inter
Barcelona have refused to bow to Samuel Eto'o's demands regarding a 15 per cent cut of his sale to Inter Milan.
The Cameroonian striker claims he is entitled to such a pay-out under the rules of Spanish football.
With Barca having placed his value at around €20million (£18.2m) in a part-exchange deal involving Zlatan Ibrahimovic, the African ace believes he is entitled to €3m (£2.7m).
Eto'o claims it states in his contract, signed with agent Jose Maria Mesalles, that he would receive such a package upon his departure from Camp Nou.
However, Barca claim the agreement only relates to transfers within Spain, meaning that the deal was made redundant once Eto'o completed a move to Italy.
"We are prepared to go to a tribunal in order to defend our interests," Barca vice-president Joan Boix told Com Radio.
"If Eto'o wishes to continue with this subject it will be necessary to go to a tribunal and let judges decide."