Shabba ranks opening draw
Midfielder says Bafana can build on first result
Last Updated: 11/06/10 7:10pm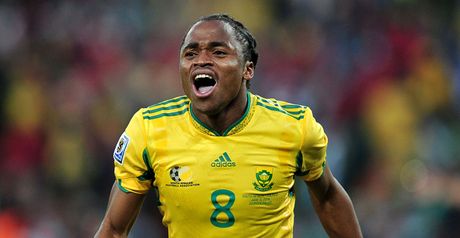 Tshabalala : Goal celebrations
Midfielder Siphiwe Tshabalala says he is happy with South Africa's opening group draw with Mexico at Soccer City.
The Kaizer Chiefs star scored a screamer of a goal on 55 minutes to open the scoring for the World Cup hosts.
Bafana Bafana looked on their way to an opening win but for Rafael Marquez's 79th minute equaliser to ensure honours finished even.
Tshabalala believes the result is good for South Africa and has heaped praise on the performance as a whole.
Happy
"I am happy with our overall performance, we did well as a team," he said.
"It wasn't the worst result as for many of us it is our first World Cup. We didn't play that well in the first 20 minutes, but we improved as the game went on.
"We played a bit like it was our first World Cup, but I think we did well."
Katlego Mphela, who scored plenty in South Africa's warm-ups, almost clinched the win late in the game but his last-gasp effort hit the post.
"I think we could have won the game," Shabba added.
"But I'm happy that I scored a goal and celebrated my 50th cap for the national team. We did very well and I'm looking forward to the next game.
"There were chances that were created to score a second, but we couldn't bury them."
Tshabalala says he is looking forward to the second group game with Uruguay, a match he feels Bafana Bafana can definitely win.
"It's looking good because we are creating those chances and we are getting into those goalscoring positions, so it's just a matter of time. Hopefully in the next game we will utilise those chances."