Scholes reveals retirement plans
Midfielder indicates that he is preparing for final season
Last Updated: 24/06/10 6:03pm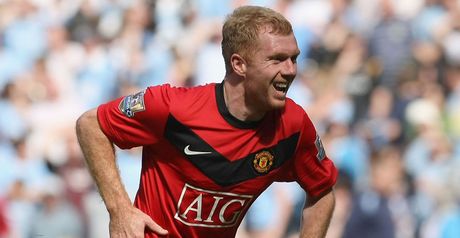 Scholes: One more year
Manchester United star Paul Scholes has indicated that he is considering retiring at the end of next season and he would like to move into coaching.
The former England international signed a one-year contract extension at Old Trafford at the end of the last campaign, but he recognises that his playing days are coming to an end.
Scholes, 35, has enjoyed an excellent career to date and narrowly missed out on a 10th Premier League title in the 2009/10 season as Chelsea collected the trophy.
The midfielder's impressive form even led England manager Fabio Capello to make a late attempt to lure him out of a six-year international retirement before he named his World Cup squad.
But Scholes was not tempted due to the timing of Capello's call and he also recognises that his club career is drawing to a close.
Ferguson tribute
"I am coming to the end of my playing career and I maybe have one year left," Scholes said in an EPL Talk Podcast while hosting a soccer academy in Florida.
"I have started doing my coaching badges back in England and hopefully one day I will be able to coach kids or coach some kind of team somewhere."
Scholes also paid tribute to the influence of United manager Sir Alex Ferguson on his career.
"He has been great," added Scholes. "It goes without saying what a top manager he has been.
"The amount of players he has brought through the youth team is great and it gives hope to all the kids in the youth team that if they are good enough he will definitely use them.
"It has just been fantastic working with him and I think there is a good few years left in him yet."