Fergie reveals England snub
United boss says he has twice been offered Three Lions post
By James Riach. Last Updated: 17/07/10 10:02am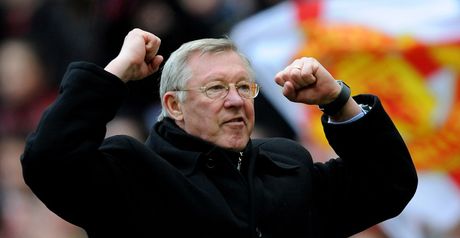 Ferguson: Makes claim
Sir Alex Ferguson has claimed that he turned down the chance to manage England on two previous occasions.
SKY SPORTS ON SKY
There's more live football on Sky Sports than ever before, including the Barclays Premier League, UEFA Champions League, Clydesdale Bank Premier League, England away Euro 2012 qualifiers and La Liga. With four live Sky Sports channels, as well as Sky Sports News, you'll never miss a moment on Sky. Click
here
for more.
SKY BET ODDS
Man Utd are 1/2 to win any trophy next season and 6/4 to win none.
Click here to bet.
"It's a poisoned chalice anyway. I think it's a terrible job, plus the fact that I would have had a tremendous handicap being Scottish; no matter which way you look it, that's important."
Sir Alex Ferguson. Quotes of the week
The long-standing Manchester United boss has not revealed exact details of when he was offered the Three Lions position, but he is thought to have been considered as a replacement for Terry Venables in 1996 and Glenn Hoddle three years later.
Ferguson, 68, has described the England job as a 'poisoned chalice', and believes the fact that he is Scottish would have been a major handicap.
He told a Canadian television station: "I was offered the chance to manage the England team on a couple of occasions but, of course, it was just out of the question.
"It's a poisoned chalice anyway. I think it's a terrible job, plus the fact that I would have had a tremendous handicap being Scottish; no matter which way you look it, that's important."
The remarkable claims come as United prepare to embark on their pre-season tour of North America.
England produced an abysmal display in the World Cup this summer and crashed out in the second round after an embarrassing 4-1 defeat to old foes Germany.
Ferguson believes the Premier League campaign is to blame for the Three Lions' poor performance in South Africa.
Exhausting
"The English season is exhausting," he added. "Look at December, for instance, when we play eight or nine games even though it's the worst time of the year for the pitches, when they are heavier and the weather is at its worst.
"In the second half of the season, you then find lots of players are carrying little strains and pulls.
"But because of the importance of the games they keep on playing and, when they get to the end of the season and there's an important tournament such as the World Cup, they are not 100 per cent.
"They can't be because they need that rest factor to bring the energy back into their system."
And the Red Devils wily tactician also thinks the expectation going into the tournament was the reason why a number of big players did not perform.
He remarked: "It was the expectation. All the main players for whom the expectations were high had bad tournaments, including (Lionel) Messi and (Cristiano) Ronaldo.
"At the outset, the expectation was built up that this was going to be Wayne's (Rooney's) tournament, but don't forget that he doesn't have great experience of World Cup football.
"For many players, they only get one World Cup, but Wayne will have other opportunities and he will be much better with experience."
On referee Howard Webb's showing in the final between Holland and Spain, Ferguson said: "He was given an impossible task with the behaviour of the players.
Pressure
"I think it got to the stage in the first half that showing a red card would have put him under pressure, criticism-wise.
"A World Cup final, having a player sent off, it's not the done thing and you don't want to see that. The public doesn't want to see that, the spectators who have gone to the game don't want to see that, and he was left in that position.
"There was no way out for him. If he had sent a player off, he would have faced criticism. If he didn't send a player off, he would get criticism.
"I think at half time he realised that, and in the second half, his momentum got less and less."