Speed sees bigger picture
Wales boss looking for more than victory against England
Last Updated: 26/03/11 5:52pm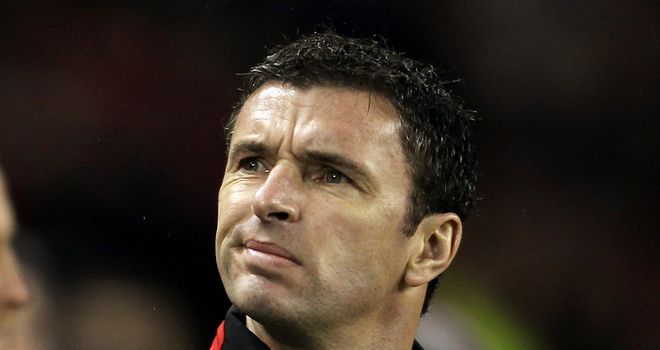 Speed: Passionate
Gary Speed has insisted that Wales must focus on achieving consistent results, rather than trying to secure the odd famous victory.
LIVE ON SKY SPORTS
Wales v England
2pm, Sat, Sky Sports HD1, Sky Sports 1, in Sky 3D and online with Sky Player
Click here to remote record
TV Guide
.
SKY SPORTS ON SKY
There's more live football on Sky Sports than ever before, including the Barclays Premier League, UEFA Champions League, Clydesdale Bank Premier League, England away Euro 2012 qualifiers and La Liga. With four live Sky Sports channels, as well as Sky Sports News, you'll never miss a moment on Sky. Click
here
for more.
Although determined to lead his side to a surprise win against cross-border rivals England on Saturday, Speed is also aware of the bigger picture.
He hopes the game with Fabio Capello's side will prove to be just a stepping stone to further success - namely qualification for a major tournament.
Speed said: "We have a chance to make history but if we do make history tomorrow we have got to make sure that is not our greatest achievement.
"If we do win hopefully it won't be the greatest result at the end of my career.
"Hopefully in a couple of years I will have an even better result.
"We don't want to be sitting here in five years' time saying, 'Remember the England game'.
"I want to be sitting here in five years time saying, 'Remember the night we qualified'.
"It is a game we want to win - no doubt about that - and it would be fantastic for everyone in Wales if we could, but there is a bigger picture."
Passion
Wales have not qualified for a major tournament since 1958 and Speed faces a tall order to break the mould.
Making it through to Euro 2012 already looks unattainable following three straight defeats at the start of the campaign, but Speed feels the passion of the players will help their cause in future.
Pundits and fans have often complained that this has been lacking in recent years - particularly with John Toshack's tenure blighted by player withdrawals - but Speed claims it has been evident this week.
He said: "If you are playing for your country, you have got to have passion.
"If those guys didn't have passion they wouldn't turn up.
"The reason they are here is because they are passionate about Wales and playing for Wales.
"I don't sign up to the fact they are not passionate at all.
"Having seen them this week, I don't have to tell them they have got to go out and play with passion. It is a given, and a pre-requisite."