Warner slams vote claims
Former Fifa official brands comments by ally as "nonsense"
Last Updated: July 7, 2011 11:42pm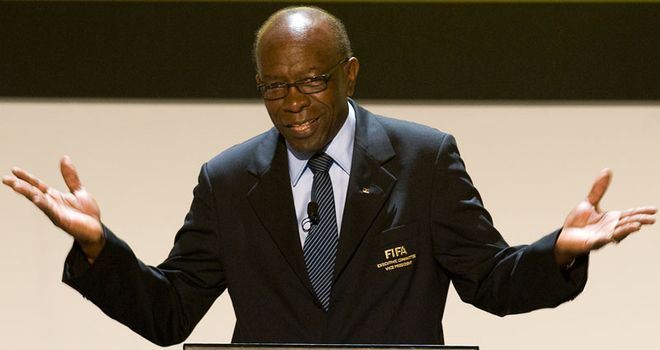 Football Betting

Football Betting

£10 Free Bet
Jack Warner has rubbished claims he voted for Qatar instead of the USA to host the 2022 World Cup.
Until his resignation last month, three weeks after his provisional suspension on corruption charges, Warner was president of the Concacaf confederation as well as a Fifa vice-president.
As Concacaf president it would have been shocking for Warner to have backed Qatar over the United States, one of the countries in his confederation.
But Patrick John, president of the Dominica Football Association and a long-time ally of Warner, claims that he did vote for Qatar - and that the charges against him were a result of a response by both the USA and England, who lost out to Russia for 2018.
"The whole thing is a conspiracy against Jack Warner," he told local radio. "Jack promised the United States to push for the World Cup but when the thing came along at Fifa level, Jack supported Qatar. That hurt the United States.
"Jack promised the English FA to push for the World Cup for them, but Jack sided with Russia so these two federations are up in arms against Jack, they are the only federations making trouble."
Foolishness
Warner insisted that was not the case, though, saying in an email: "If Mr John did say so then that is nonsense but I imagine that one day all of this foolishness will come to an end."
Warner and fellow Fifa member Mohamed Bin Hammam were provisionally suspended after being charged with bribery.
It was alleged they organised cash gifts totalling US$1million to Caribbean officials while Bin Hammam was campaigning for the Fifa presidency, and the Qatari is set to appear before Fifa's ethics committee later this month.
"I am still looking for and hoping to receive a fair hearing - one which will not be influenced by any political agenda or motivation," he said on his website.
"These proceedings were initiated based on the allegations of vote buying. I hope that, by now, the investigation has identified whether or not there had been attempts by me - directly or indirectly - to buy votes, particularly from those who claimed to have received these monies.
"I hope that the decision will be made solely by the members of this committee and based solely on the facts presented and not based on assumptions or the wishes of people outside the committee."