Unfinished business for Keogh
Striker delighted to be back where it all began
Last Updated: 15/08/11 5:26pm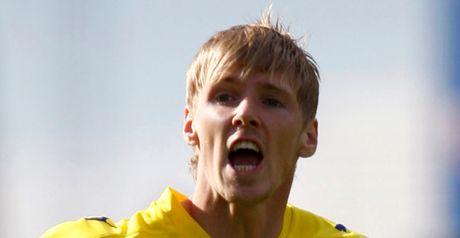 Keogh: Feels he still has a point to prove to the Elland Road faithful
Andy Keogh is determined to make his mark at Leeds United second time around, having returned to the club on loan.
The Wolves striker agreed a move to Elland Road on Monday and will remain with the Whites until January.
He will need no introduction to his new surroundings as he began his career on the books at Leeds.
Keogh was unable to force his way into the senior set-up, though, and left for Scunthorpe in February 2005 after making just one appearance.
Since then he has plundered 53 goals in 270 career appearances, taking in spells at Cardiff City and Bristol City as well as at Glanford Park and Molineux.
He is delighted to be back where it all began for him, telling Leeds' official website: "I can't believe it has come up. I need games as well so it's perfect. This is where I started, it's great to be back.
"I know all about the club. I was here in what you could call the good old days and I left just as things started to go downhill.
Fair chance
"I was disappointed I never got a fair chance here. I thought I was sold too quickly. I understand what it was like back then, but it's good to be back and to have a chance to play in the first team properly.
"Every player wants to prove something and I'm no different. I feel I was let go too early and didn't get the chance to show the fans what I could do."
Keogh appreciates that a spell at Leeds will allow him to put himself back in the spotlight, with it likely that his time at Molineux is drawing towards a close.
He added: "I've had a season in the Premiership with Wolves and I was injured for a bit.
"I've played mainly in the Championship and needed to get out and play games. There's players ahead of me at Wolves who have cost £6m or £7m, but I've been treated very fairly there so I couldn't ask for more really.
"We'll see how this goes. My future probably lies away from Wolves so we will see what happens."