Woodgate - Harry wanted me
Stoke centre-back insists Spurs boss fought for him
Last Updated: 18/09/11 12:41pm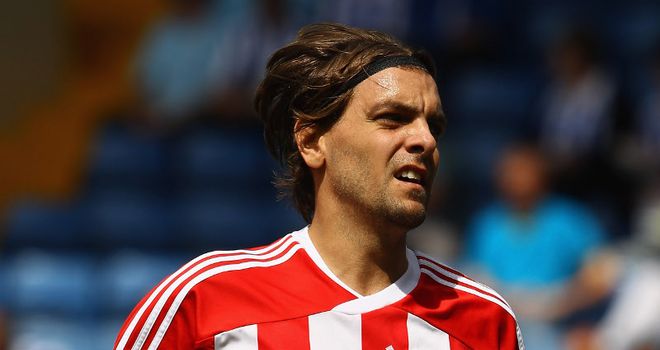 Woodgate: Reveals how he was turned away at a Tottenham training session
Stoke City defender Jonathan Woodgate has revealed that Harry Redknapp did not want him to leave Tottenham Hotspur in the summer.
Woodgate joined Stoke in July as a free agent after his contract with Spurs ran out and he was not given a new deal at White Hart Lane because of his long-running problems with injury.
However, the 31-year-old appears to have recovered his fitness this season and has featured in three Premier League matches for the Potters.
The former England international now says that he did not want to leave Spurs and neither did Redknapp want him to go.
"Harry would have kept me, definitely," Woodgate told The Mail on Sunday. "He'd ring me every week, even when I was in Australia, to encourage me and say he needed me back. But I think his hands were tied.
"The manager told me to come in for training but as I was walking towards the dressing room to get changed, a Spurs official stopped me on the grass verge outside and said I couldn't train.
"I felt humiliated. We all went into a room. Harry fought my corner, he was dying for me to stay, but Spurs said they felt I wouldn't get to the top again.
Joining Stoke
"I couldn't do anything about it but go to another club and try to prove people wrong. I did worry that nobody would have me after 18 months injured, but I think Harry must have had a word with Stoke manager Tony Pulis, because they came in really quickly.
"I wanted to play for a good club in the top flight and I remember turning out against Stoke at the Britannia Stadium. It was an atmosphere no opponent looked forward to."
Woodgate was given a one-year contract at Stoke and he is determined to make the most of it and carry on beyond next summer.
"I want to play 40 games this season," the former Real Madrid defender enthused. "Did you think I'd say 20?
"Playing more is probably better for me because training is sometimes harder than the games.
"I want to play as long as I can. I can't understand people who retire early. I bet they end up regretting it."