Harry - Gomes unhappy
Spurs boss concedes Brazilian is frustrated by lack of playing time
By James Pearson - Follow me: @SkySportsJamesP. Last Updated: 19/09/11 2:52pm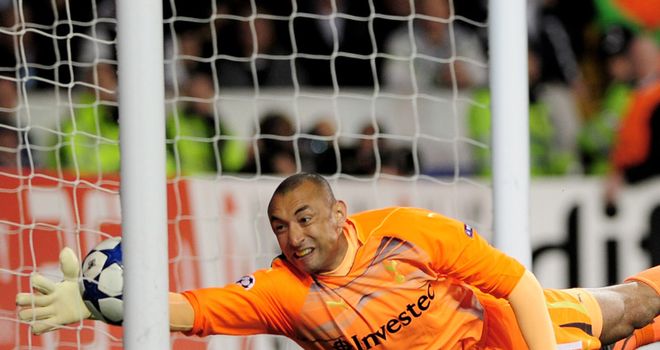 Gomes: Redknapp believes keeper is unhappy after slipping down pecking order
Tottenham manager Harry Redknapp believes keeper Heurelho Gomes is unhappy after slipping down the club's pecking order.
The summer arrival of veteran Brad Friedel means the Brazilian shot-stopper is no longer first choice for Premier League fixtures.
Gomes is expected to feature in Spurs' Carling Cup trip to Stoke City on Tuesday, although that is unlikely to appease the 30-year-old as he seeks regular match action.
The former PSV Eindhoven man is keen to play as much as possible for Brazil and knows he needs first-team football to be considered for selection.
Unhappy
"I don't think he is happy here, we don't want to kid ourselves," commented Redknapp.
"He wants to play in the World Cup in Brazil. Obviously to do that he needs to be playing so it's going to be a problem.
"We will wait and see where that takes us at the next window but while he is here you couldn't get a better pro.
"He has done nothing wrong at all."
Partnership
Meanwhile, Redknapp has been delighted with the link-up play between his new-look strike partnership of Emmanuel Adebayor and Jermain Defoe.
Adebayor has joined on loan from Manchester City to help fill the void vacated by Peter Crouch and he scored twice in Sunday's 4-0 win over Liverpool, while Defoe is a man back in form.
"The pair of them have linked up well together," Redknapp said of Defoe and Adebayor's fledgling partnership.
"Jermain has been in great form. Last year was probably his first bad year. Every year he is a 16 or 18 goals a year man.
"He should be hitting 20 a year with his finishing ability and this could be the year where he is back up to 20 goals a year."