Bruce eyes United win
Sunderland boss waits for victory over former club
Last Updated: 22/12/10 5:56pm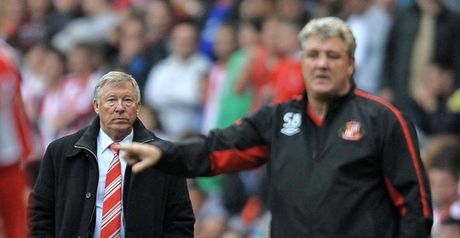 Bruce: Looking for Fergie win
Football Betting

Football Betting

Bet with Sky Bet
Steve Bruce travels to Old Trafford on Boxing Day desperate for his first win over former club Manchester United.
Bruce has never managed to win against his former mentor Sir Alex Ferguson, and Sunderland have gone 42 years without a victory at United.
Now Bruce is hopeful his side can cause a similar upset to the one they achieved over Chelsea earlier in the season as they claimed a stunning 3-0 win at Stamford Bridge.
"I have tried hard [to win at United] and not had one yet, and we will keep trying," he said.
"To be fair, there are a few managers out there who have probably witnessed it - certainly nobody has beaten them this year, have they?
"We know what to expect, it will be difficult. But I always enjoy going back,
even if I do come back with my backside kicked.
"For me, a lot of teams are beaten in the tunnel. You must, must go and take
part in the game; you must go and have the courage to take the ball and take
them on, and if you do that, then you have got a chance.
"Even then, you have still got to play to your maximum. Let's be fair, they
don't lose many at home.
"But it's a great place to go and play. If you have anything about you at all,
these are the games that you should enjoy playing in.
"Seventy-odd thousand at Old Trafford - fantastic, that's what you play
football for and that's where you can go and show your skills.
"Last year, we played very well. To be fair, we have played very well at home
against them twice as well, so let's hope we can maintain it."