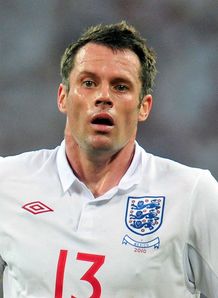 SKY BET ODDS
Jamie Carragher is 2/1 to start for England against the USA.
Bet now
Related links
Teams
Players
Also see
Jamie Carragher believes Fabio Capello has helped toughen up the mental attitude of the England squad.
Liverpool defender Carragher retired from England duty in 2007, but decided to return to the international stage under Capello's management for the World Cup.
He played his first match under the Italian in Monday's friendly victory over Mexico at Wembley and is expected to make Capello's final cut for South Africa this summer.
And after experiencing Capello's coaching first hand, the 32-year-old insists the Italian boss has brought a change in mentality to the Three Lions players that his forerunners failed to inspire.
Improvement
"I think it's a mental thing with Capello," Carragher told the Sunday Mirror.
"It's difficult for a manager to come in and make a massive improvement to players because we are talking about top-level footballers.
"But I remember he said when he first came here that some players were terrified of playing for England, especially at Wembley because of the reaction of the crowd at times.
"From what I have seen already, maybe he has improved the mental attitude of the players.
"His sheer presence also has a lot to do with it. He's a man of stature and, after what he has already achieved in the game, no one is going to question his methods."
Carragher admits his decision to return to the England set-up was partly influenced by Liverpool's disappointing season, which has ruled out his chance of playing Champions League football next term.
Difficult
"When it came down to coming out of international retirement, the difficult situation we've had at Liverpool gave me something to think about," he added.
"The top level in football is the World Cup and the Champions League.
"Liverpool haven't qualified for the Champions League next season and I was thinking even if we do finish in the top four next year I am going to be 33 or 34 by then.
"From a personal point of view I haven't got a lot of time left. So I took the chance offered to me."