Holden holding back US return
American felt nothing unusual with his knee after Villa win
Last Updated: 21/09/11 8:55pm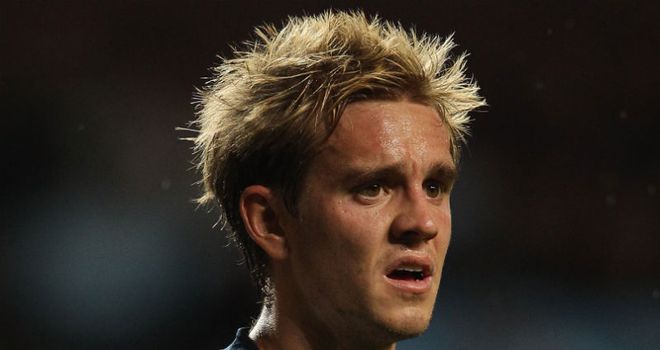 Holden: Midfielder is a big part of Klinsmann's plans
Football Betting

Football Betting

Bet with Sky Bet
Bolton midfielder Stuart Holden admits US head coach Jurgen Klinsmann wants him back in the national side as soon as possible.
The 26-year-old former Houston Dynamo star spoke to the German after recently playing for the Trotters' reserves.
Holden is currently on his way back after being out for six months with a knee injury after a tackle by Manchester United defender Jonny Evans that ripped open his left knee and fractured a bone.
Future
He said: "I spoke to him for a good 10-15 minutes after in the locker room and, you know, he made it clear to me that he sees me as part of his plans in the future, but he wasn't going to rush me back in.
"I would assume I'm not going to be involved in the friendlies coming up next month but, you know, I hope to keep pushing on with Bolton, get back in the team here, and you know, that will all fall into place, hopefully.
"A big goal of mine is to make an impact with the national team and be a big part of that team going forward."
The United States play Honduras in Miami on October 8th, followed by a meeting with Ecuador three nights later in Harrison, New Jersey.
Stiff
Holden starred in Wanderers' 2-0 victory at Aston Villa on Tuesday in the third round of the Carling Cup and said he felt nothing unusual with his knee after playing the full 90 minutes.
"My knee is going to be stiff for a couple of days after playing games like that. But, you know, it's just par for the course now for the next couple of months as I continue to put more and more work through it and as it gets used to doing that," he said.