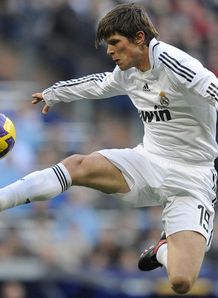 It's not about keeping them happy, they have to keep me happy and the fans happy - that is what they are paid to do.
Harry Redknapp.
Quotes of the week
Related links
Teams
Players
Also see
Harry Redknapp is still keen to bring Klaas-Jan Huntelaar to Tottenham despite securing the services of Peter Crouch.
The Spurs boss now has a host of attacking options at his disposal with the £9million England international joining Jermain Defoe, Robbie Keane, Roman Pavlyuchenko and Darren Bent at White Hart Lane.
Redknapp admitted last week that he felt Real Madrid striker Huntelaar was out of their reach because of his wage demands and subsequently completed a move for Crouch.
But the White Hart Lane boss has now revealed that the deal is not dead and the Holland international could still be set for a switch to North London.
Bent's anticipated exit, with Sunderland his most likely destination, would hasten the arrival of the former Ajax ace.
Incredible
"It is definitely not a no-go," Redknapp said. "It is still a possibility. If you look at his goalscoring record, it is incredible.
"If he is available then again he is a player that interests me. I think if any top-class player becomes available then you have to be interested and if Darren Bent does go then maybe we will be interested.
"You cannot have too many good players. Competition for places is what it is all about. Look at Manchester United, you could pick two teams from their squad last year."
Should Bent depart and Redknapp successfully lure Huntelaar to White Hart Lane it would mean five top-class strikers vying for places in Spurs' forward line.
But the former Portsmouth boss, currently in China for the Asia Trophy, is unconcerned with upsetting players in his squad, insisting it is up to them to fight for their place.
Fight
"I don't care," he added. "It's not about keeping them happy, they have to keep me happy and the fans happy - that is what they are paid to do.
"It's up to them as they have got to fight to play, it's all about competition for places."
Meanwhile, Redknapp was stunned to hear that Spurs target Patrick Vieira has been linked with a return to Arsenal.
"That is surprising but I had heard nothing about it," he said. "I am sure he will be a good signing whoever he signs for.
"He belonged to Arsenal, he was fantastic there so if an opportunity to go back there came along then I'm sure he would take it.
"But I haven't spoken to anyone, it could only be a rumour so I don't know."