Wise defends Toon role
Former chief unhappy at St James' episode
Last Updated: 05/10/09 8:04am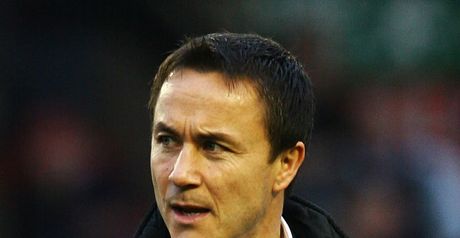 Wise: Not happy
Football Betting

Football Betting

Bet with Sky Bet
Dennis Wise has defended his role at Newcastle, and insisting that his career has been left in tatters.
Wise was lured to Newcastle to be executive director despite an impressive managerial CV after working at Millwall, Swindon and Leeds.
Last week former Newcastle boss Kevin Keegan was awarded £2million in compensation after he won his legal battle against The Magpies.
Keegan claimed that he was forced to sign players such as Uruguayan Ignacio Gonzalez.
But Wise insists that he has suffered more than most due to the fall-out at Newcastle.
"It has all had a damaging effect on my career and has not been fantastic for me. But you have to make decisions and live and die by them," said Wise.
"It's sad because I was going into that job trying to do my best for the club. I left a good job at Leeds to go there and thought I was going to better myself.
"At the end of the day, Mike sacked me.
"There's been a lot of speculation about the situation with agents.
"I have to be careful what I say but the club never paid money to an agent. We brought a loan player in but there was no loan fee or agent fee.
"The long-term idea was we would have first option on all the best young South American kids and that was important to the club.
"Mike knew all about it and was fine. He knew about every deal. He's the owner and it's his money.
"The disappointing thing is that if Kevin had won £25m that would have upset Newcastle United Football Club.
"Mike was worried about it. When someone is suing for £25m, you have to panic a bit.
"It's not a nice situation to be in. Maybe that would have ended in administration. Maybe, that's a question for Mike."
Despite speculation about the club's impeding sale, Wise does not see that happening soon.
"I think Mike will hold on to the club at least until they get promoted," he said.