Llambias - Ashley won't sell up
Llambias admits the days of big money signings are over
Last Updated: 10/09/11 2:03pm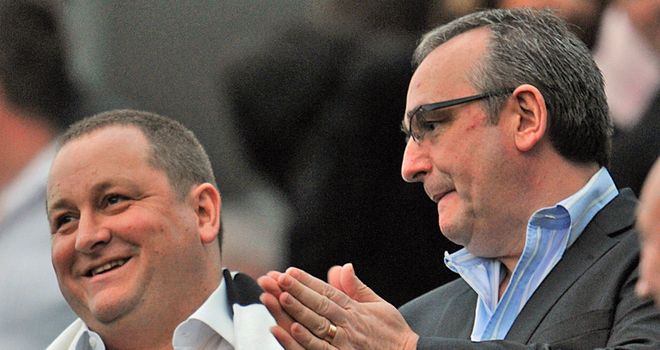 Llambias claims Ashley is still extremely passionate about the club
Football Betting

Football Betting

Bet with Sky Bet
Newcastle managing director Derek Llambias insists Mike Ashley has no intention of putting the club up for sale.
The sportswear magnate, who has invested a total of around £280million, including £140m in interest-free loans has previously tried to offload the business he bought for £134.4m back in May 2007.
But Llambias revealed that Ashley has no plans of selling up - unless he is made an offer he cannot refuse.
He said: "Mike Ashley has no intention of putting the club up for sale. He is still extremely passionate about strengthening the club and making it a real success.
"We are balancing the books and getting the finances in order, but there's more work to be done and he's committed to doing that for the long term.
"That said, it's worth going back to the analogy of the house that's not for sale. If suddenly an incredible offer comes in, he may have to consider it.
"From time to time we are approached by people claiming to have an interest in buying the club. Our message to them is clear: buy a box for a commitment of five seasons and then we will know you are serious. No-one's taken us up on that offer."
Desire
Llambias has also jumped to the defence of the club's summer recruitment policy.
Kevin Nolan, Jose Enrique and Joey Barton all departed St James' Park while manager Alan Pardew signed seven new players, but no striker, which has angered the club's supporters.
Llambias said: "It was everyone's desire at the club to bring in a striker. We worked hard to make that happen, but ultimately couldn't complete a deal that we had hoped to."
Asked further where the Andy Carroll money had gone, Llambias replied: "We made it clear when we sold Andy that the fee we received would stay in the club, and it has.
"The money will be spent prudently within the club and on new players as and when we are in a position to do so. We didn't promise to spend all the money in this window.
"Money will be available going forward, for the right player at the right time. If the club had been able to move on other transfer targets this summer, then more money would have been spent."
However, Llambias also confirmed that the days of big-money signings are well and truly over.
He said: "The days of Newcastle United acquiring 'trophy' signings who command huge salaries for past successes on the pitch are over.
"Yes, they have generated excitement and anticipation in the past, but ultimately many of them have left the club poorer and with little to show for it in terms of our standing in the league."