O'Leary slams 'deranged' Ridsdale
Former Leeds duo at loggerheads over agent claims
Last Updated: 02/11/07 10:10am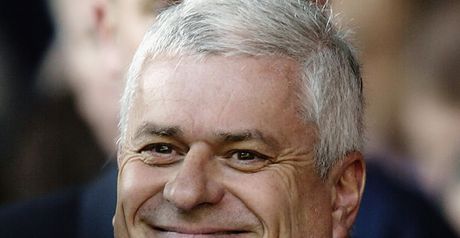 Ridsdale: O'Leary's not a fan
Football Betting

Football Betting

Bet with Sky Bet
David O'Leary has labelled Peter Ridsdale 'deranged' for the allegations he has made against him with regards his time at Leeds United.
Former Elland Road chairman Ridsdale is set to publish a book which lifts the lid on the rise and demise of Leeds during his time at the helm.
Ridsdale is held responsible for overseeing the club's financial ruin by a large section of the Leeds faithful, but he lays the blame at O'Leary's door.
The current Cardiff chairman feels it is O'Leary who was responsible for exorbitant payments to agents, most noticeably the £1.75million Rune Hauge received for his part in the deal that saw Rio Ferdinand sign from West Ham United.
O'Leary has been left incredulous by Ridsdale's claims and is currently considering legal action.
Legal action
"I signed a confidentiality agreement, which was incorporated in a Premier League tribunal order, and so did Leeds," said O'Leary in the Daily Mail.
"I have honoured that but I now feel compelled to defend myself against this deranged man.
"My dad rang me the other morning to tell me what had been written as part of the book serialisation in a paper.
"My parents have experienced the highs and lows of my career but the headline was very upsetting. To say I'd made a 'secret deal with a bung agent' is outrageous. It's nothing but a smear campaign."
Ridsdale's claims could not have come at a worse time for O'Leary, given he has recently expressed a desire to return to management.
And he is fuming at what he feels is a huge betrayal on the part of his former taskmaster.
"Do I want to get back into football? Definitely," he added. "Is this going to help me? No.
Amazed
"What amazes me, though, is how Peter was with me when he was out of work. Not only did he call me to say that he had recommended me to Doug Ellis when I got the Aston Villa job but he asked me to recommend him to my chairman when the chief executive's job became available.
"That made me think, for all we'd been through at Leeds, that he was still a friend.
"I will always feel I did a good job at Leeds. We finished fifth in the Premiership the summer I was sacked. I remember walking off the pitch and Peter was waiting for me to congratulate me on another good season."