Blatter claims 'slave' misquote
Fifa president's comments were distorted
By Chris Burton. Last Updated: 01/08/08 1:24pm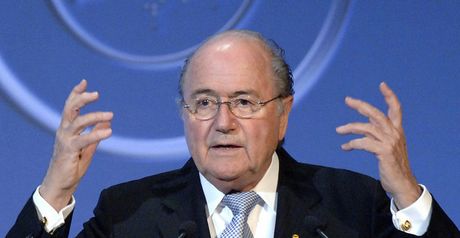 Blatter: Did not mention Ronaldo
Football Betting

Football Betting

Bet with Sky Bet
Sepp Blatter claims he was misquoted regarding his controversial 'slave' quotes on Cristiano Ronaldo.
In an interview last month, the Fifa president called for Manchester United to allow the Portuguese winger to join Real Madrid, should he wish to do so.
Blatter said the Red Devils should not hold the player against his will, even though he was under contract.
He then went on to add: "I think in football there is too much modern slavery, transferring players or buying players here and there, and putting them somewhere. And we are trying now to intervene in such cases."
Blatter now claims that his comments were not specifically aimed at Ronaldo, but refuses to back down in his belief that modern footballers need greater protection.
"I have never said that Ronaldo is a slave," he told reporters on Wednesday during a visit to Vietnam.
Distorted
"But I said slavery with young people. European clubs are trying to get 13, 14 and 15-year-old boys and bring them to the big clubs.
"I have never mentioned that for Ronaldo. But the press, they have distorted it.
"Ronaldo is not a slave."
Blatter now hopes that the ongoing transfer saga surrounding Ronaldo will reach a conclusion which satisfies both United and Real.
"They will solve this problem," he said
"We have nothing to say, Fifa is not going to intervene, let it be as it is now."