Mourinho defends Real brawl
Real boss feels team have been unfairly attacked over fracas
Last Updated: 20/09/11 8:01pm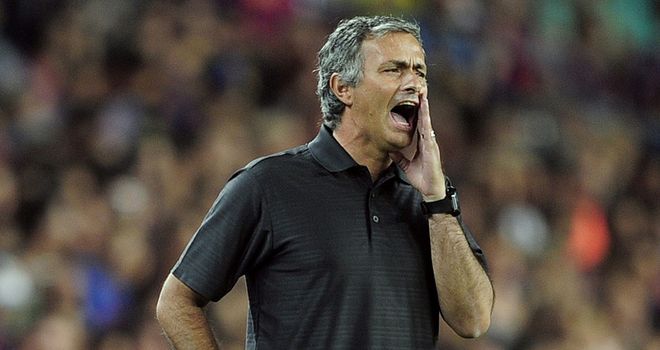 Mourinho: Unhappy with media's reaction to Real Madrid brawl
Football Betting

Football Betting

Bet with Sky Bet
Jose Mourinho has accused the media of unfairly criticising Real Madrid for brawling after commending the Spain squad for the same behaviour.
The Portuguese boss is still stinging from Sunday's shock 1-0 defeat to Levante, during which Sami Khedira was sent off for a second yellow card imposed for shoving during an on-field fracas.
Real have come under fire in the press for that scuffle, which Mourinho feels is hypocritical given the reaction to a similar incident when Spain met Chile earlier this month.
"I don't know if what Khedira did can be called a brawl. To me it was not a brawl," the coach said.
"A brawl is what happened in Spain-Chile and you said it was spectacular, incredible, that it showed the team spirit, that it showed tremendous character and that the players were like brothers.
"Real Madrid does it and, well, we are a group of bandits."
Brawl
The Spain incident Mourinho referred to occured on September 2nd, when angry Chilean players sparked a brawl at the final whistle in Switzerland after the world champions battled back from two goals down to win 3-2.
The manager said he was shocked at Khedira's sending off because he is a "very, very, very calm player."
"He is one of the last I would have expected it from. But he did it and there is the sanction. The team played with 10, the team lost and tomorrow he won't play, that's the sanction," he added.
"He does not deserve any other sanction. Tomorrow after the match his sanction ends and he is a player like any other.
"He is one of the players I don't even worry about because I don't think he will do it again. He does not have that profile of an adversarial player."