Cavenaghi returns to River
Striker heads home after falling out of favour in France
Last Updated: 15/07/11 11:01am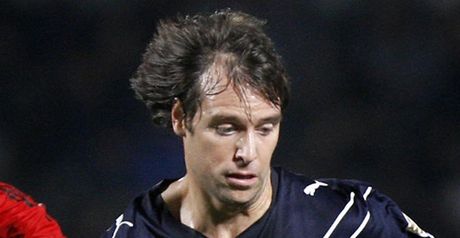 Cavenaghi: Is confident River can bounce back from their shock relegation
Argentine striker Fernando Cavenaghi has re-joined River Plate after spending the last seven years in Europe.
The 27-year-old began his career with River, bursting onto the scene as a talented teenager.
An impressive record of 71 goals in 122 appearances saw him attract plenty of attention, and Spartak Moscow swooped for his services in 2004.
He was then moved on to Bordeaux in 2007, and his fine form in front of goal continued in France.
Cavenaghi slowly started to slip down the pecking order, though, and was loaned out to Real Mallorca and Internacional in the last two seasons.
Proud
He has now secured a permanent return to his homeland and is determined to play a leading role in helping River bounce back from their shock relegation into the Argentine second tier.
"I am proud to be here again, with great hopes that everything will go brilliantly," Cavenaghi said.
River won three championships during Cavenaghi's previous spell and he has promised the club's disgruntled supporters that he will help to return them to the top.
"We will be champions again," he added.