Marquez focused on Pac-Man
Mexican already in training for Vegas showdown
Last Updated: 24/12/07 8:14am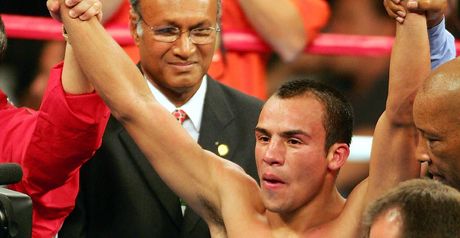 Marquez: Determined
Juan Manuel Marquez is determined to finally prove his superiority over Manny Pacquiao when the pair meet in Las Vegas on March 15.
Marquez held on to his WBA and IBF featherweight belts when the pair fought out a savage draw in 2004, but the Mexican was furious with the decision despite being dropped three times in the opening round.
Contractual disputes have delayed the rematch but Marquez, who now holds the WBC super-featherweight strap, has accepted a smaller share of the purse to get a second chance at the Pac-Man.
And the 34-year-old, who is already in training for the Mandalay Bay showdown, insists it is the biggest fight of his long and illustrious career.
"This is such a crucial fight for me, my family, the Mexican people and all my fans everywhere," he said. "On a scale of one to 10, the rematch with Manny is a 10-plus.
"Manny is very strong but he's not technical. He doesn't like it when you go looking for the fight. He's called the terminator of Mexican fighters but with me, no.
"I'm telling you again that I'm going to demonstrate who's better and i'll win this one. Then I'll be happy to give Manny a rematch but only if he accepts the smaller purse."