Kinnear 'optimistic' over Owen
Magpies boss believes striker will sign new deal
By Chris Burton. Last Updated: 18/12/08 12:22pm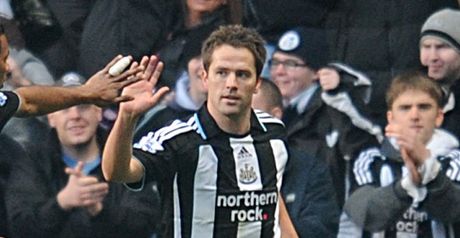 Owen: Weighing up his options
Newcastle boss Joe Kinnear is quietly confident of persuading Michael Owen to remain at the club.
The England international is in the final year of his contract at St James' Park and is yet to commit his future to the Magpies.
New terms have been offered, with Kinnear having already held tentative discussions with the striker in regards to his plans.
While it is far from certain that the 29-year-old will put pen to paper on the proposed deal, the man charged with the task of pushing that scenario through admits he is increasingly optimistic that an agreement can be reached.
Negotiations
Kinnear said: "I spent about an hour with him a couple of days ago. He's had what I consider a very good offer, length of period of time three years, which would bring Michael up to 32-plus.
"I am optimistic - I am more optimistic now having spent that time talking to him.
"He's getting together with his agent in the next two or three days and coming back with an answer.
"Obviously, they'll still be negotiating one way or the other, but we'll certainly find out, I would think, in the next two or three days."
Happy
With Nicky Butt, Shola Ameobi and Steve Harper having also been offered new deals to remain on Tyneside, Kinnear is hoping that trio will be signed up by the end of the week.
He said: "We hope to sign Nicky at some time today (Thursday) and Shola is the same.
"Steve's agent is talking to (owner) Mike (Ashley) today, so I'm very confident they will all sign.
"Nicky is happy. He wants to finish his career here.
"There is only Michael, really. We are giving him an extra few days to sort things out, but I am getting more optimistic with Michael."