England to face All-Stars
McNamara announces plans for 2011
Last Updated: 07/01/11 4:33pm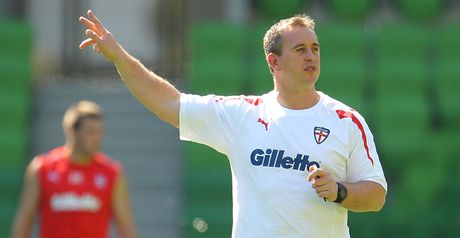 McNamara: campaign starts now
England's mid-season international against France will be replaced this year by a match against a Super League overseas all-stars team.
Details have still to be released but, speaking at a briefing at the Rugby Football League's Leeds headquarters, England head coach Steve McNamara revealed the fixture will be part of a 2011 training programme in which he will be given unprecedented access to the elite players.
"The concept has been agreed with the clubs and details will be released in due course," he said.
McNamara believes an all-stars team will provide a sterner test than the French, who were hammered 60-6 at Leigh last June.
Some of the most successful overseas players in Super League, including the past two Men of Steel - Wigan wing Pat Richards and Warrington's former Giant Brett Hodgson - have already voiced their support for the idea.
They could be joined by some of the new Australian signings who are due to play in England this season, such as Willie Mason (Hull KR), Ryan Hoffman (Wigan) and Joel Monaghan (Warrington).
McNamara, now in his first full year as national head coach, held a get-together with his 2010 England touring party earlier this week and has been promised three two-day camps with the elite training squad during the season.
He will also have similar access to an England Knights squad, which will be launched this year to help bridge the gap between the England academy squad and the national team.
Knights
The Knights, which will be formed along the lines of the England Lions and Saxons in cricket and rugby union, will essentially be a development squad, although there will be no age limit, and they are not guaranteed to play any matches.
"It will be a vehicle for players with potential to push on for the 2013 World Cup," said McNamara, who will announce both a Knights squad and an enlarged elite training squad on Monday, February 28.
"We are building an England culture so that there is less need for education when players come into the elite training squad.
"We are going to get more access to players and I have got to thank clubs for their support. The 2011 campaign starts now."