MLB: Mets make it four straight
Mets move to 4-0 courtesy of Murphy's game-winning single
Last Updated: 10/04/12 7:38am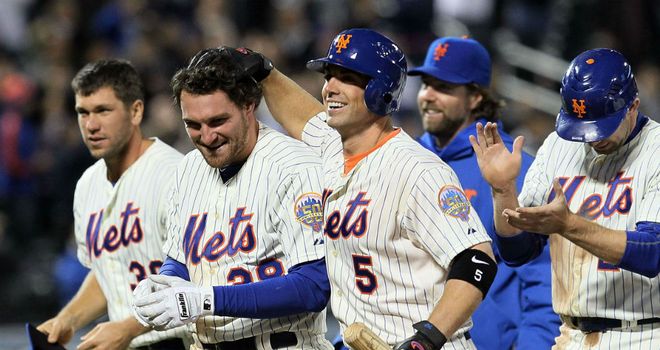 Daniel Murphy is mobbed by team-mates after the Mets win again
The New York Mets extended their perfect start to the season to four games as Daniel Murphy's walk-off single gave them a 4-3 win over the Washington Nationals.
The game-winning hit scored Mike Baxter, who walked to open the ninth, and sparked on-field celebrations for the Mets, who sit atop the National League East with a 4-0 record.
The Mets also got offence from Kirk Nieuwenhuis, who hit his first major league home run.
Dustin Pedroia inspired the Boston Red Sox as they came from 2-0 down to beat the Toronto Blue Jays 4-2 for their first win of the season.
Pedroia belted a solo homer in the six, then began a three-run rally in the ninth, before Alfredo Aceves recovered from his rough outing on Sunday to record a perfect ninth for his first save of the season.
Defeat would have seen the Red Sox get off to an 0-4 start in consecutive seasons for the first time in their history.
Four hits from veteran Derek Jeter helped the New York Yankees get their first win as they beat the Baltimore Orioles 6-2.
Jeter went 4-for-4 with a run and an RBI, while Andruw Jones homered in the sixth.
Matt Holliday, David Freese and Yadier Molina all homered in a four-run first inning as the St Louis Cardinals beat the Cincinnati Reds 7-1.
Japanese pitcher Yu Darvish gave up four runs in his first major league inning, but recovered to help the Texas Rangers to an 11-5 win over the Seattle Mariners.
Nelson Cruz, Mitch Moreland, Josh Hamilton and Ian Kinsler all homered to back the debutant.
CJ Wilson led the Los Angeles Angels to a 5-1 win over the Minnesota Twins, giving up one run on three hits over seven innings on his debut.
Omar Infante homered twice to help the Miami Marlins to a 6-2 win over the Philadelphia Phillies.
Barry Zito hurled a four-hit shut-out as the San Francisco Giants beat the Colorado Rockies 7-0 to record their first ivctory of the new season, while Tom Milone threw eight shut-out innings to guide the Oakland Athletics to a 1-0 win over the Kansas City Royals.
The Houston Astros were 8-3 winners over the Atlanta Braves, who are yet to win this season, the Milwaukee Brewers were 7-5 winners over the Chicago Cubs and the Chicago White Sox saw off the Cleveland Indians 4-2.