Giant killer
Tim Clement reflects on a day where history was made at Flushing Meadows with Laura Robson claiming another major scalp
By Tim Clement - Twitter: @SkyTimClement. Last Updated: September 1, 2012 4:09pm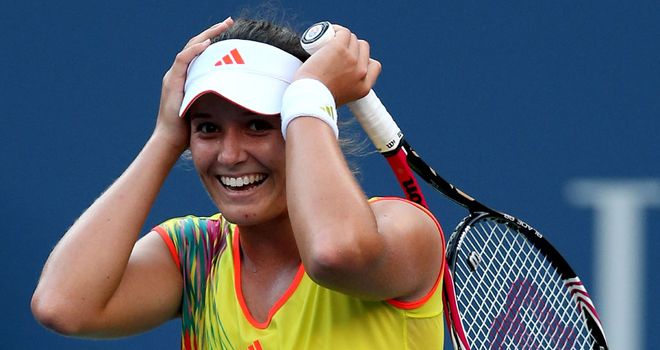 "I've had a pretty rough draw haven't I?" Laura Robson humbly reflected on another giant-killing success at the US Open.
The softly-spoken 18-year-old ended a 14-year wait for a British female in the fourth round of a grand slam on Sunday, but it is the nature of her run which has really captured the imagination of the nation.
Robson had already produced the biggest shock of the tournament in beating Kim Clijsters on Wednesday, a result which ended the three-time US Open champion's singles career.
The world number 89 then recorded her first ever win against a top 10 player, picking up where she left off with a relentless attacking display against Li Na.
Upsets of such a rankings difference are hardly something uncommon in the women's game, but it was still remarkable given Na's impressive form.
The world number eight made the final in the Rogers Cup before triumphing in the Cincinnati Masters, her first title since winning the 2011 French Open.
It's certainly handy that Robson has a taste for an upset, as she will once again be the significant outsider when she faces reigning US Open champion Samantha Stosur.
In fact, if Robson is to go all the way at Flushing Meadows then she is likely to face all but one of the grand slam winners over the last two years, with either Petra Kvitova or Maria Sharapova, who are scheduled to meet in the semis, the exceptions.
Talk of the title is obviously premature for any player given we are still in the first week, but Sky Bet have reacted significantly, cutting her odds from 1000/1 pre-tournament to 40/1.
Improvements
Sky Bet Odds
Can Laura Robson go all the way? She's is 40/1 to win the US Open here.
The more important question is what has changed for her to go from three successive first-round exits at the majors to thumping the favourites?
An abundance of ability has always evident in her hitting, with her backhand rock solid and a lefty forehand lethal.
Movement is the major area of improvement for most, including Robson herself.
The teenager highlighted the ability to make her opponent play an extra ball has been all-important, while Andy Murray said in his last press conference that he believes she could be a "top, top player" if she can improve that side of her game.
Murray's lead is clearly one Robson is keen to follow, using his fitness coach to improve her physical game, something that was evident as she went the distance and finished strongly against Li Na.
Despite prevailing against Clijsters, it was predominantly due to superb one-two punches off serve and some sublime returns rather than stubbornness in the rally.
Percentages were more appropriately observed against Na, making the most of some erratic hitting, but once again it was some superb serving, winning 83 per cent behind her first, and heavy returns that made the difference.
The areas of improvement are clear to be seen, with a defensive game still to be fortified.
However, if Robson can continue to attack as well we've seen this week, it is the player on the other side of the net who will be worrying about that side of the game.