No complacency for Weir
The popular Londoner is on course to claim four gold medals
Last Updated: September 5, 2012 9:22am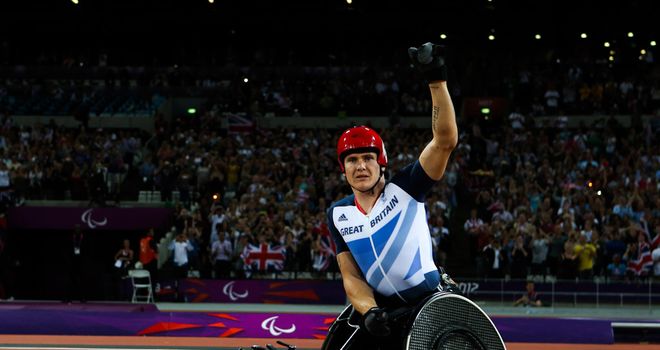 David Weir believes four gold medals are a possibility after reinforcing his status as the world's best wheelchair racer.
The Londoner crowned a wonderful night for Great Britain on Tuesday which yielded four medals by claiming his second title of the Games with victory in the T54 1500 metres.
"I've trained to win every gold. I can't be too complacent."
David Weir Quotes of the week
The father of two got his tactics spot on as he hit the front with around 300m to go and then held off a host of world-class challengers down the home straight to win by 0.23 seconds to huge cheers and celebratory werewolf howls from his team-mates.
It meant two down and two to go for the 33-year-old, who has the 5,000m also in the bag and was due back at the Olympic Stadium at 10:20 on Wednesday morning for the 800m heats.
Body
Weir said: "I've trained to win every gold. I can't be too complacent. I've still got the rounds to go.
"We'll see what happens. It depends what my body says in the morning.
"I've got to qualify first, which is going to be tough. I'm glad I started with the 5,000m and then went down. If I had the five tomorrow it would've been a little bit harder because you've got to think of doing 12 and a half laps. I've only got to do two laps."
Weir revealed he got just two and a half hours' sleep after his 5,000m win before having to get up for his 1500m heat the following morning, and joked he had asked for a bed to be set up for him in doping control.
Marathon
Once the 800m is out of the way, the six-time London marathon winner wants a crowning glory on The Mall in the Paralympic marathon on Sunday.
He added: "I have trained for the marathon. I haven't just come here to win on the track - I've come here to win on the road as well.
"I wanted to do well in the marathon because every championships I've always had a problem and I've not been able to do the marathon at the end.
"I really want to do well on the last race because it will stay in people's minds because it's the last race of the whole of 2012."
Family
Weir's success on Tuesday night made it six gold medals for Britain's athletes on just the fifth day of competition, lifting their total medal tally to 16.
Paul Blake continued his remarkable family story by winning silver in the 400m, the 22-year-old son of a Star Wars actor and ballet dancer running a new personal best of 54.22 to take the T36 title.
It added a Paralympic medal to an already impressive list of family achievements.
Blake's actor father, also Paul, played bounty hunter Greedo in Star Wars, his mother, Kate, was a dancer with the Royal Ballet and his grandfather played tennis at Wimbledon.
The victory followed a T13 1500m bronze for David Devine, while the women's T35-38 women's sprint relay quartet of Olivia Breen, Bethany Woodward, Katrina Hart and Jenny McLoughlin also took bronze.
Oscar Pistorius is due back on the track on Wednesday night for the first time since losing his T44 200m crown and then sparking a fierce debate over running blades by claiming those worn by winner Alan Fonteles Oliveira gave the Brazilian an advantage.
Pistorius runs in the heats of the 100m, with Oliveira and British world record holder Jonnie Peacock also competing.