Quotes of the week
Who's been saying what in a sporting week of verbal sparring?
Last Updated: September 20, 2012 11:06am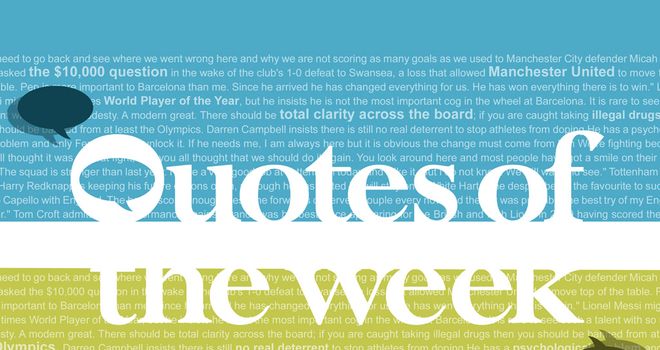 "It is very sad news. He was a good man, a good journalist, with a good personality. He asked good questions, sometimes too good! That is the nature of his industry. Our thoughts are with his family at this time." Sir Alex Ferguson leads the tributes for Brian Woolnough, who lost his battle with cancer on Monday.
"Fleet Street has lost a huge presence in Brian Woolnough. I always loved and admired how he asked the best, bravest questions. RIP Wooly." Times Chief Sports Correspondent Matt Dickenson pays his respects from the press box.
"With the weight of the new evidence in this report, it is right for me today as Prime Minister to make a proper apology to the families of the 96 for all they have suffered over the past 23 years. On behalf of the Government - and indeed our country - I am profoundly sorry for this double injustice that has been left uncorrected for so long." David Cameron comes clean on arguably the most shocking cover-up in British history.
"Very positive outcome. 23 yrs waiting for the truth next step justice." Kenny Dalglish leads the calls for justice.
"After moving to the Premier League, I've realised that I need to limber up and strengthen my body trunk." Shinji Kagawa suffers a case of lost in translation.
"I've done the lower leagues and it's a different style of managing. No disrespect but I don't want to be Swansea boss, either. They probably don't want me. Aston Villa? What's the point? What can you do with them? So it's the Arsenal or nothing and I'm not ready for that." It's fair to say Tony Adams never knowingly undersells himself.
"You can't go 2-1 up with five minutes to go and lose the game. Who else can we blame? We can only blame ourselves. twice and we lost it, so we can only blame ourselves. It's hard to come off the field after losing 3-2 and be positive. I'm really sorry." Joe Hart rues the one that got away as Man City twice throw-away a lead in Madrid to lose 3-2.
"Joe Hart should stay as goalie and finish. If anyone should criticise the team, I should criticise the team, not Joe Hart." Roberto Mancini reminds his goalkeeper who the boss is.
"Alan Hansen is a pompous fool and owes me an apology." David Gold paints his kettle black.
"I could have gone to Liverpool and maybe I would have played always in England, who knows? Instead I went to the south of Europe - two years at Lazio, four years at Juventus, five years at Barcelona, two years at Real Madrid." Michael Laudrup did okay in the end.
"It's more than a comeback. I'm fighting to redeem myself. I want British boxing to be proud of me again. The only way to convince everyone I'm back is by flattening someone on 24 November." Ricky Hatton dusts off his gloves.
"It was horrific. Ricky's the main man, but there were an awful lot of other people that Ricky Hatton inadvertently made depressed. Billy Graham, myself, his dad Ray, his mum Carol. At one stage I thought we were going to have a mass suicide. It affected a lot of us, it was so sad the way it ended up." Hatton's former cornerman Kerry Kayes on the time when the Mancunian split with his old training team.
"Film work, I'd love to do anything like that." Tom Daley comes over all Hollywood.
"It is a disappointment because Kevin Pietersen is a world class player, but it's a team game. You want to take your best players, obviously, but he wasn't available." National selector Geoff Miller confirms Kevin Pietersen's omission for the tour of India was a directive from the ECB.
"Kevin Pietersen is naturally disappointed about today's decision, having gone to great lengths to reach a reconciliation with the ECB. Pietersen has met with - and apologised to - Andrew Strauss. He has also met with Alastair Cook to stress his commitment to England and met with ECB board members, including face-to-face meetings with Hugh Morris, David Collier and Andy Flower, prior to his departure to Sri Lanka." Pietersen's agents claim their client did everything he could to broker a reconciliation.
"We knew we would have to sell players that summer if we were to raise the funds to bring in the reinforcements - and, in particular, the British reinforcements - we needed. That would require parting company with one of our current squad members who would fetch a substantial fee. We decided that the most likely candidate was Xabi Alonso, who had been a great player for us since we signed him from Real Sociedad, but had not quite performed to his best in the last couple of years." Rafa Benitez explains why Xabi Alonso was the man he earmarked to leave to fund his ultimately doomed pursuit of Gareth Barry.
"I did not sit down and decide, consciously, to cut myself. It was almost as if, instead, I slipped into a trance. I held the Swiss Army knife in my right hand, feeling the solid weight, as if it promised something beyond the empty ache inside me. Pressing down harder, I had a sudden urge to make myself bleed." Victoria Pendleton reveals she self-harmed to battle the pressure of competing.
"If you kick Ronaldo off the park, then that Real Madrid team is average." Robbie Savage's considered punditry.
"This is the only fight that interests me at heavyweight." David Haye sets his sights on Vitali Klitschko.
"I've been busy keeping busy." A busy Mark Robins takes time out to take the Coventry job.
"We don't feel under pressure; it's just that fear of being killed, which makes you leave your body and soul on the field." Former Argentina hooker Mario Ledesma gets deep.