Amir Khan has announced that his next fight will be against Carlos Molina and confirmed that his new trainer will be Virgil Hunter
Last Updated: September 29, 2012 5:13pm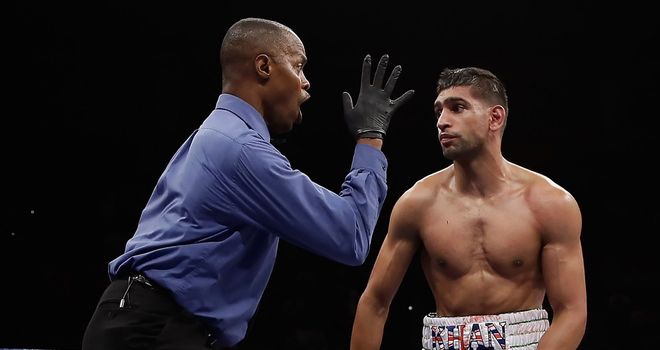 Amir Khan will return to the ring in December to fight Carlos Molina under the guidance of new trainer Virgil Hunter.
The deposed light-welterweight champion will take on unbeaten Molina in his first outing since being stopped in the fourth round by Danny Garcia.
Khan confirmed Hunter's appointment on the Soccer AM sofa, while the identity of his next opponent is a surprise given Molina has fought almost exclusively at lightweight.
The Bolton fighter split with former trainer Freddie Roach after successive defeats to Lamont Peterson and Garcia saw him lose the IBF and WBA titles.
"Virgil Hunter is a good trainer. I like the way he trains his fighters and also he's got so much time on his hands and will be spending 100 per cent of his time with me," Khan said.
"He also coaches Andre Ward, who defensively and offensively is one of the best in the world.
"My next fight will be either 1 December or 15 December. We could pick an easy fight but we're going to go straight back up there again and fight the tough fights, hopefully get a win and bring those titles back to Britain.
"We're still in talks about where the fight's going to be. I've got a great UK fan base and I'd like to bring the fight over here for them. But by next week I'll hopefully know where the fight will be.
"Any undefeated fighter is a good fighter. I could have taken easy routes from my last fight but I want to step in with the big boys. It will be a tough test."
Molina has 17 wins and a draw from his 18 bouts so far but has not been tested beyond 10 rounds.
Hunter was last year voted as the trainer of the year by America's boxing writers, and he believes his new partnership with Khan can be a fruitful one.
"Amir is an extremely talented fighter and I'm very happy to become his new trainer," he said.
"I've seen a lot of him and he has many attributes such as his speed and heart. There are certain small aspects of his game that I'm intending to work on in order to help him fulfil his enormous potential."