Augsburg beat Bremen
Last Updated: 05/10/12 10:15pm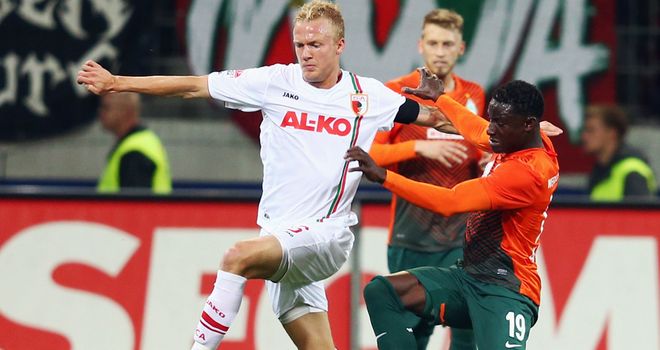 Kevin Vogt and Joseph Akpala vie for the ball
Augsburg picked up their first victory of the season with a 3-1 defeat of Werder Bremen.
Tobias Werner gave Augsburg the lead inside two minutes before Kevin de Bruyne equalised in the 19th.
Stephan Hain made it 2-1 to the hosts in the 32nd minute before Daniel Baier scored Augsburg's third 18 minutes from full-time.
Augsburg, who before this had scored only two goals this season, moved out of the bottom three with their first ever win against Bremen, who are mired in mid-table on seven points
Augsburg grabbed the lead early on as Paul Verhaegh crossed into the middle where Werner beat Clemens Fritz to the ball to head home from seven yards.
Bremen equalised inside 20 minutes as De Bruyne's free-kick flew through a crowd of players before bouncing beyond Augsburg goalkeeper Mohamed Amsif.
The hosts regained the advantage after 32 minutes as Knowledge Musona threaded a through-ball to Hain who dispatched the ball beyond Sebastian Mielitz into the left corner.
Augsburg were close to making it 3-1 after 63 minutes but Mielitz blocked Verhaegh's shot.
But the hosts did increase their lead in the 72nd minute as Baier's free-kick wrong-footed Mielitz.
Augsburg almost scored a fourth in the 82nd minute but Werner shot wide after a quick counter-attack, while Milan Petrzela struck the post in the final minute.